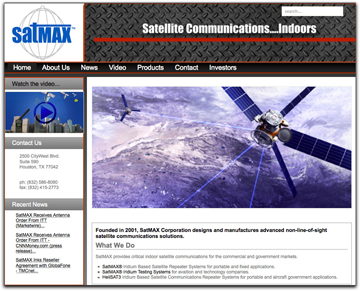 SatMAX Corp. (PINKSHEETS: SATM) has delivered an order for additional satellite communications antennae to ITT Corporation.
This order comes on the heels of
ITT
's recent announcement that it has received has received a contract valued at US$9.7 million from the
U.S. Naval Surface Warfare Center
(NSWC)
Dahlgren Division
to supply 1,450
Iridium
-based handheld tactical satellite communication devices for use by U.S. forces in Iraq and Afghanistan
The patented
SatMAX
(r) system enables users of the Iridium satellite network to quickly and easily make fully wireless, satellite voice and data communications available from any non-line-of-sight location. Iridium users have historically been limited by the requirement for satellite phones to have line-of-sight access to orbiting satellites. With SatMAX®, however, users now have the ability to access dependable and uninterrupted wireless satellite communications, in a safe, secure environment in order to ensure mission effectiveness.