[Satnews] DEV Systemtechnik, a Quintech Company, is introducing its new DEV 1953 Universal Switch Chassis, which extends the company's Universal Switch product line to now offer broadcasters a higher capacity solution designed to make network resiliency and redundancy easier than ever for larger network applications.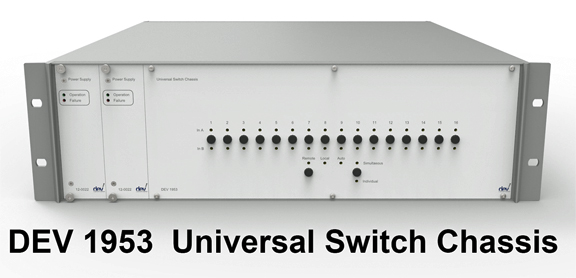 DEVs two Universal Switch solutions eliminate single points of failure and enabling the highest uptime for network operations. The Universal Switch Chassis DEV 1953 offers 16 Slots for large RF transmission applications, in a 3 RU footprint. It complements the Universal Switch Chassis DEV 1951, a 1 RU solution with 2 Slots, designed for small RF transmission applications.
Broadcasters and their system integrators have come to rely on DEV switches thanks to their unique advantages, including easy network integration, rock-solid performance, superior engineering design, and modular flexibility to meet the widest range of interfaces and specifications.
DEV Redundancy Switches were developed for professional use in satellite, cable headend and broadcast applications. They offer outstanding flexibility in 1 RU or in 3 RU with a large variety of modules tailored for unique applications. Functions such as A/B or Transfer Switching, Splitter/Combiner for CATV, L-Band, Ethernet, ASI/SDI or E1/T1 signals, Optical Switching (optical inputs and optical outputs), Automatic Switching via RF Sensing, Time Based Switching, and Automatic Switch Back offer cable, satellite and broadcast facilities the most reliable and flexible products available on the market. A Customer Protocol Handler (CPH) makes integration easy and the DEV Web Interface facilitates operation. DEV Redundancy Switches are field-upgradeable without any disruption of service.
Executive Comment

"We see market demand growing from large network applications such as IPTV headends, DTH and broadband media centers. With its capacity designed for the largest applications yet, the DEV 1953 meets a growing customer need in the marketplace," said Jörg Schmidt, Managing Director of DEV Systemtechnik.

According to Ericsson TV's Systems Engineering Group Manager; "At Ericsson Television we particularly like the DEV 1951 switch because it is perfectly suited for broadcast needs. Its output signal will persist even if power is lost to the unit. It also offers the capability of hosting many different card types to suit different signal types. DEV's engineers are capable of taking account of customer needs and making changes wherever appropriate."