[SatNews] Etisalat, a leading telecom provider in the UAE, showcased its latest VSATExpress, VSATConnect and Satellite News Gathering (SNG) services at the ongoing 20th edition of CABSAT 2014, a top digital media and satellite exhibition in Dubai.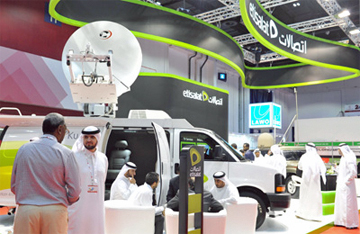 The telecom provider also gave live demonstrations at the event being held at Dubai World Trade Centre (March 11-13) and aimed at broadcasters and companies with remote sites needing seamless VSAT connectivity. These demonstrations focused on VSAT Services, Application over VSAT, TV Services and VSAT Hosting Services.
John Lincoln, senior vice president, Business Marketing, Etisalat UAE, said, "We are relentlessly innovating to stay at the forefront of developments in a rapidly changing industry and we are committed towards developing state-of-the-art VSAT solutions that drive immersive experiences and boost monetization."
VSAT (Very Small Aperture Terminal) facilitates reliable digital data, video and voice transmissions directly via satellite. It offers a cost-effective means of implementing a high quality, reliable communications link to widely distributed sites or isolated areas. It is easily transportable and the installation lead-time is much shorter compared to terrestrial links. It also offers a wide range of protocols and features, providing extraordinary flexibility and virtually unlimited expansion capabilities.
Etisalat is a leader in the UAE VSAT market with almost two decades of experience in delivering complex VSAT solutions to diverse clients ranging from major oil companies to government entities of the UAE among others.