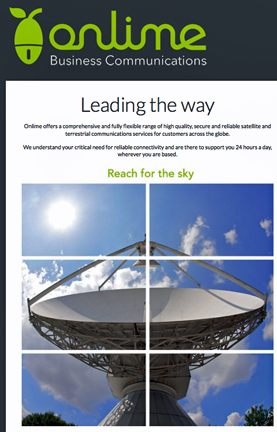 [SatNews] Onlime collected the 2014 VSAT Award for the Best Marketing Campaign of the Year at the Gala event held on September 18th during the VSAT Conference in London.
The VSAT Industry Awards celebrates the companies and individuals working to drive innovation and accelerate the pace of achievement in the VSAT industry. In the re-branding marketing campaign, Onlime brought together entities with varying technologies, offers, target markets and locations, but all centered on business communications, incorporating Internet, data and VoIP to enterprise customers. The new brand was as much about showing customers the wider portfolio of services in a single presentation as it was about bringing together the members of the Onlime team. The marketing campaign continues to enhance internal and external understanding of what we can do and is promoting a brand that is hopefully different, modern, entertaining and memorable.
"It is terrifically rewarding to have our peers recognize the tremendous effort that has gone into our marketing campaign through this award and a great feeling for our team. Our aim was to develop a new brand that targeted a much wider audience and to show that we are a leading one-stop-shop for all of the enterprise communications solutions. The thrust of our business development is currently Africa, although we believe Onlime has the potential to become a global brand and with the Teleport in Germany as our technical hub; we are as committed to the delivery of VSAT services as we ever were." said Paul Ziegler, Onlime CEO.
Irina Petrov, Onlime Marketing Director, said, "On the fun side, we created 'Limey' as part of the internal message but then he begun to develop a life of his own. Our freebees are in his shape and we cannot produce enough of them. Limey is our mascot and a torch-bearer. People seem to have related to him and he is turning into our best salesperson."
There's additional information at http://www.onlime.com/ regarding Onlime.