Cubic Mission Solutions (CMS), a business division of Cubic Corporation (NYSE: CUB), is displaying Cubic | GATR's line of inflatable satellite communications antennas in addition to recently acquired Cubic | Vocality's communication and optimization products at Satellite 2017, held in Washington, D.C. from March 6 – 9.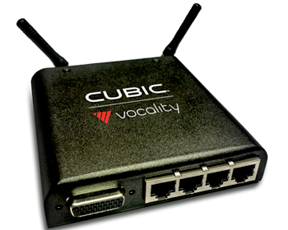 With a focus on the reduction in operational costs through bandwidth optimizations and enhancements to voice and video quality over satellite and wireless, Vocality is displaying the following at booth #1930:
OPUS Suite: A family of software products designed to offer the best-in-network optimization and acceleration. The modular application-based design of the software delivers great flexibility and future scope for a wide range of additional software applications.
Radio over Internet Protocol (RoIP): Provides the ability for radio networks to be extended across multiple sites or campuses utilizing wireless technologies including cellular and satellite. Vocality RoIP supports many different radio manufacturers and frequencies, dispatch systems and integrates with industry standard telephone systems; allowing customers to create a unified communications network regardless of where they are located in the world.
ELITE Fusion: The ultimate device for secure portable team communications over public networks including cellular, satellite and fixed-line networks.

GATR is introducing two new technologies: the GATR-FLEX®, a 0.75 meter foldable satellite antenna that weighs less than 20 pounds, and the ruggedized GATR 950 modem, based on iDirect Velocity™ technology. The two products make a highly efficient data transfer terminal that maximizes the portability of sub-meter satellite communications with high-throughput satellites (HTS). In addition, GATR will be exhibiting the following inflatable, ultra-portable satellite antennas that perform similar to rigid deployable antennas of similar size, but up to 90 percent reduction in the logistical size/weight of those systems at its booth #2015:
1.2 meter man-packable satellite terminal.
2.4 meter ultra-portable satellite terminal.
4.0 meter satellite terminal, weighing less than 400 pounds and packs in four cases.
Attendees can visit Cubic | GATR in Booth #2015 and Cubic | Vocality in Booth #1930 at the Walter E. Washington Convention Center, Washington D.C.