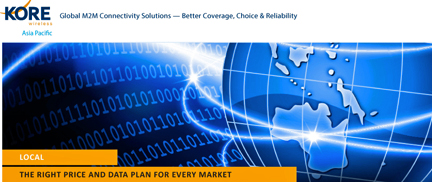 [SatNews] Robustel Technologies, specialists in the Machine to Machine (M2M) and Internet of Things (loT) markets, has partnered with KORE Wireless, the world's largest dedicated M2M wireless network provider, to include optional device connectivity for a range of products.
KORE Wireless and Robustel will be unveiling their M2M Starter Kit at loT Asia 2014, taking place in Singapore from April 21 through 22, 2014. The starter kit provides everything customers need to connect, develop, deploy and use M2M applications within Asia-Pacific and includes:
Robustel GoRugged R3000 Industrial 3G Cellular VPN Router
KORE Wireless SIM with 30MB of Data and 20 SMS to be used over 90 days
KORE Wireless PRiSMPro™ M2M Business Management Platform, allowing for remote provisioning, management and monitoring of KORE Services
Vice President and General Manager of KORE Wireless Asia Pacific, Shane Murphy, said he hopes that this kit will reduce the usual time to market associated with developing an M2M solution from the ground up. "The Robustel starter kit is like a one stop shop for customers—it provides the ability to immediately develop, connect and deploy devices within Asia Pacific."

CTO of Robustel Technologies, Chen Xiaojun, said the products were designed to deliver robust, reliable and secure solutions for a range of target markets. "The Starter Kit incorporates Robustel's state-of-the-art mobile connectivity, cellular network support, dual SIM capacity and the ability to allow users to monitor, configure and manage large numbers of remote devices on private networks via the web."
The partnership allows users to develop fully connected, industrial M2M applications that work consistently and effectively regardless of location, without the hassle of trying to source connectivity.
The KORE Wireless infosite is located at http://www.korewireless.com.au/
Further information regarding Robustel is available at http://www.robustel.com/