[Satnews] The Nikkei Asian Review is reporting that eight Asian nations will team with two Japanese universities to build a network of microsatellites aimed at monitoring the region for natural disasters and other developments.
Hokkaido University and Tohoku University will lead the creation of up to 50 microsatellites by 2020. The devices are 50cm cubes, and weigh around 50kg each—roughly 5 percent of a traditional satellite. Each unit costs around 300 million yen ($2.54 million) to make. The satellites will be launched using Japanese rockets, or released from the International Space Station.
The Philippines, Vietnam, Indonesia, Malaysia, Myanmar, Bangladesh, Thailand and Mongolia will join in the project. The two Japanese universities will pursue memorandum of understanding with government authorities, universities and other organizations in each nation.
The capabilities of any one microsatellite are limited. Each participating country will have a role in launching a number of the devices into orbit between 300 km and 500 km above the Earth's surface, and share the data each collects. Around 25 units are reportedly required to monitor all of Asia. The devices will be used to photograph the occurrence and aftermath of flooding and other natural disasters, giving a boost to recovery efforts. The satellites' parts were designed by a team including Hokkaido University, and manufactured by small-to-midsize Japanese companies. Two were commissioned from the Philippines, which will contribute 800 million yen to the project.
Those satellites have already been built by a team involving the country's Department of Science and Technology and public university system. They are set to be transported to the International Space Station by this summer and launched from the Japanese-made experiment module, known as Kibo. Each unit is equipped with a camera capable of photographing the Earth's surface with a resolution of 3 meters to 5 meters.
Participating in the plan is a chance for other Asian nations to learn from Japan's relatively developed space industry. Around 10 Philippine technicians were sent to study at the two Japanese universities. Japanese companies can also expect involvement in the project to yield further business in the future.
The effort is diplomatically useful as well. Japan at the end of 2015 agreed to extend its cooperation with the U.S. and other nations in running the ISS through 2024, as well as to promote greater use of the Kibo module. Teaming with Asian neighbors on the satellite network will help Japan keep its spot as the space-industry leader in the region as China continues work on its own space station.
---
SmallSat Expertise Inundates The February SmallSat Symposium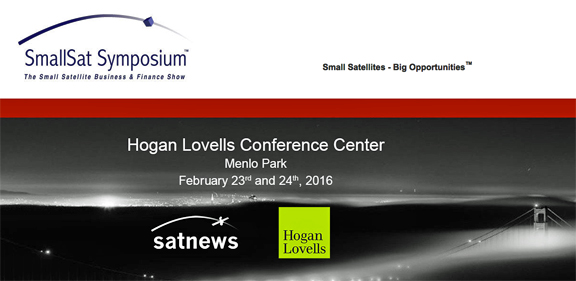 For a thorough immersion in the smallsat market segment, attend the upcoming, two-day and extremely important SmallSat Symposium.
This highly informative symposium will be conducted on Tuesday, February 23, and Wednesday, February 24, 2016. The event will occur at the Hogan Lovells Conference Center in Silicon Valley, California, and is organized and sponsored by Satnews Publishers.
In example, just one of the offerings on Day Two is entitled Structuring Financial Alternatives
Growth can be obtained either organically or through targeted acquisitions—which best suits the small satellite company. Which funding vehicle is most likely to invest in small satellite companies to supply risk and/or working capital? Which financial innovation will accelerate growth? Choosing a financing option from various alternatives such as SBA loans, banks, online lenders, crowd funding, venture capitalists, angel investors, exchange-traded funds, hedge funds to private lending institutions etc. Core investor interests —how to structure your offering and present your leadership and partner options.
For additional details and to register, please visit http://www.smallsatshow.com/?page_id=18