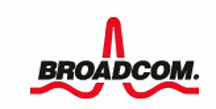 [SatNews] Broadcom Corporation (NASDAQ: BRCM) has announced that Telefonica has selected Broadcom's HEVC-enabled system-on-chip (SoC) technology to deliver Ultra High Definition (UltraHD) IPTV broadcasts.

Telefonica is distributing Ultra HD content, including recent live broadcasts of select World Cup games, through its extensive fiber optical network and integration of Broadcom's BCM7445 and BCM7252 SoC devices for advanced compression and decoding. At four times the image definition currently available to consumers, UltraHD content requires more efficient bandwidth to deliver uninterrupted 4K, 60 frame-per-second transmissions. Broadcom's high efficiency video coding (HEVC)-enabled chipsets significantly speed the transmission of 4K content, allowing operators and users to receive Ultra HD content in half the time, at 50 percent of the bit rate previously required.
Broadcom will demonstrate the BCM7445, BCM7252 and its full portfolio of HEVC-enabled SoCs at ABTA in Sao Paulo, Brazil August 5-7, 2014, Booth E12.
Key Features of the Broadcom® BCM7445 Ultra HD SoC
Brahma15 21,000 DMIP CPU, four 1080p30 real-time transcoders and HEVC compression
Delivers resolution up to 4096 x 2160p60
Web domain security, an industry leading hardware security oversight to separate Internet services from premium broadcast content
Integrated MoCA 2.0 for advanced home networking capabilities
Simultaneously delivers four transcoded HD video streams over IP for content on any screen
Key Features of the Broadcom BCM7252 Ultra HD SoC
High-performance dual-core Brahma15 10000 DMIP CPU
2180p60 or dual 1080p60 decode and transcode capabilities
Integrated high-performance connectivity peripherals, including USB 3.0, PCIe, Gigabit Ethernet
Enables more efficient operator content delivery for increased footprint, higher resolution or additional channels
Enhances quality and quantity of over-the-top services deliverable through existing high-speed data pipes
The Broadcom infosite may be accessed at http://www.broadcom.com/
For additional Telefonica insights, please visit http://www.telefonica.com/en/home/jsp/home.jsp