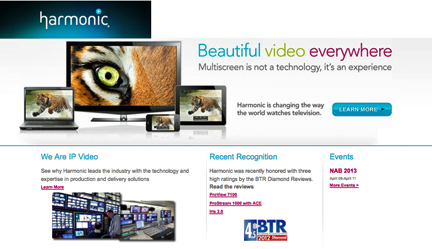 [SatNews] Harmonic (NASDAQ: HLIT) has launched a cloud-based transcoding service for...
...professional applications available on the Amazon Web Services (AWS) Marketplace. ProMedia™ Carbon MP, powered by the Harmonic Rhozet® technology used in the ProMedia Carbon transcoding engine, enables content creators, service providers, and media professionals to quickly and cost-effectively convert broadcast-quality video content to virtually any standard media format, making it an ideal transcoding solution for a wide range of applications.
ProMedia Carbon MP allows users to transcode file-based video content in the cloud on an hourly basis. Users can also access the application's powerful transcoding engine via a familiar XML API to deploy highly scalable, cloud-based transcoding workflows. In either scenario, the platform's rich user interface and flexible API allows users to perform a host of critical video operations, such as SD/HD and PAL/NTSC conversions, logo insertion, color correction, and multiformat closed-captioning processing.

In addition to saving users the expense of purchasing site transcoding licenses, ProMedia Carbon MP supports the industry's broadest array of acquisition, nonlinear editing, broadcast, web, and mobile formats including MXF, XDCAM® HD, QuickTime®, CableLabs®, and MP4. The intuitive user interface ensures complete control over every aspect of the transcoding process and simplifies the ability to convert files into any number of target formats, each with a unique set of operations and filters applied. Customers that will benefit from the ProMedia Carbon MP service include media professionals with low-volume transcoding needs, content owners and service providers who require assistance managing occasional spikes in load on their transcoding workflows, and service providers looking to deploy flexible, cloud-based transcoding farms.
ProMedia Carbon MP is the newest addition to the Harmonic's award-winning ProMedia family of software and appliance solutions engineered to optimize video production workflows for live and high-volume video-on-demand multiscreen applications.