[SatNews] Airbus Defence and Space has released version 9 of its SkyFile Mail software specialized for maritime operations.
The new version includes a range of new functions designed to simplify and complement on board IT and email administration to help shipping companies to operate smarter and more efficiently. It is available now to existing users as a free update.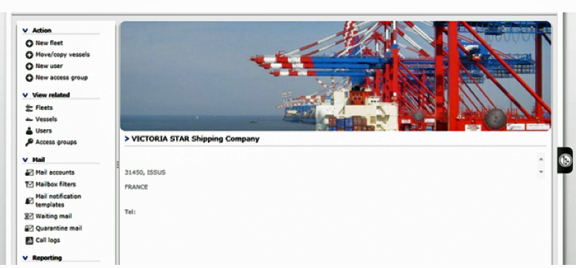 With SkyFile Mail, the ship's Master can easily manage email administration, i.e., add/delete users and set quotas for crew members. Version 9 introduces the possibility to create business connectivity profiles for even less administration onboard. Mailbox settings including mail size limit, filters and dial-in methods when switching connectivity type can now be fully automated. Connectivity profiles per terminal type are set just once. The appropriate profile is then used, ensuring the most optimal settings based on whether MSS (Mobil Satellite Services), VSAT (Very Small Aperture Terminal) or Wi-Fi is available for transmitting data.

Following the introduction of SkyFile Mail Anti-Virus over-the-air updates, the SkyFile Mail software itself and associated voyage management functions such as Electronic Notification of Arrival and Departure (eNOAD) forms can now also be updated over-the-air. As soon as a new SkyFile Mail version or SkyFile eNOAD is available a pop-up window informs the master about availability and size of the download. The Master can then decide if and when to install it. Once permission is given, updating and configuration is automatic. This process can replace updating by CD or USB and as only the updated part of the software is downloaded, the process is highly bandwidth efficient.

Data back-up is another new functionality which only needs configuration once. The introduction of an enhanced version of Automatic File Transfer (AFT) from within the SkyFile Mail software itself is also new and available. This new feature gives users a secure and organised way to transfer files between ship and shore.

SkyFile Mail is also now capable of providing precise vessel position, speed and direction via various file formats. GPS co-ordinates are picked-up several times per hour and delivered to the shipping companies own tracking system. The new GPS Monitoring function is part of the Premium package and can also be ordered as a SkyFile Premium on demand service.

With Version 9, Premium functions previously only available as one package are now available as standalone features. In addition to the new GPS Monitoring, the Premium options are POP3/SMTP (includes Quarantine and long SMS), Terrestrial access, I4 notification including Push emails and Premium service technical support. Users can upgrade to the full SkyFile Premium package at any time
"All new additions to SkyFile Mail are designed to support our strategy of simplifying and homogenizing on board IT and email administration, which in turn helps owners to operate smarter and more efficiently," said Tore Morten Olsen, head of maritime satellite communications in Airbus Defence and Space. "With our flexible connectivity services, the XChange communications management platform and SkyFile Mail, in addition to our on board network monitoring partnership with Palantir, we continue to make life easier for both master and ICT personnel."

SkyFile Mail is used onboard 25,000 ships worldwide with more than 40,000 mariners using the software on a daily basis.
For additional information, please visit http://airbusdefenceandspace.com/