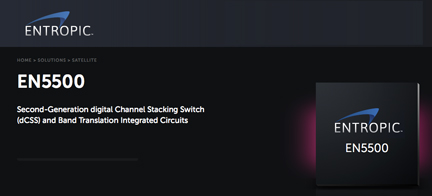 [SatNews] Entropic (Nasdaq:ENTR) and Inverto Digital Labs have announced the new Inverto Unicable II Multi-switch and Low Noise Block (LNB) products, based on Entropic's EN5520 digital Channel Stacking Switch (dCSS—the new solutions will be on display this week at ANGACOM 2014 in Cologne, Germany, in the Inverto booth # 10.2 / B39.
Leaders in the Unicable market since 2005, Inverto is changing the way Direct Broadcast Satellite (DBS) operators deploy single-cable solutions. The Company is expanding upon its existing Unicable product line and has selected Entropic's advanced second-generation dCSS solution—the EN5520—to power its Unicable II Multi-switch and LNB. Entropic's EN5520 is a highly-integrated dCSS solution, with the world's lowest power, most cost-optimized and smallest form factor when compared to competitive ODU products. The EN5520 provides 24 user bands to support more tuner/demodulators as DBS operators migrate to gateway/client architectures. Additionally, Entropic's single-chip dCSS solution supports both multi-switch and LNB applications and enables Inverto's products to conform to CENELEC standards EN50494 and EN50607, supported by user-defined functions that are configurable to operators.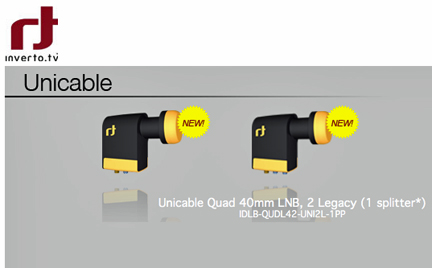 The EN5520 also delivers best-in-class Modulated Error Ratio (MER) performance under all scenarios. Entropic's EN5520 leverages proprietary mixed-signal calibration algorithms, crosstalk and spur mitigation techniques to ensure reliable performance over a broad range of operating conditions, providing immunity to process, voltage and temperature variance. In addition to the industry' lowest power solution, the EN5520 includes features like multiple outputs and support for legacy, non-CSS sSTBs. With its fully configurable User Band architecture, the EN5520 allows maximum flexibility for coexistence with Home Networking solutions, custom frequency plans, and mitigation around interferers.
Gil Laifer, senior director, Products of Inverto Digital Labs, said, "Working closely with satellite operators in different regions, Inverto developed Unicable II products that cater to the different requirements of the various satellite networks, thereby ensuring that the significant advantages of this technology are fully and most effectively aligned with each operator's specific requirements."
Al Servati, vice president, Marketing, Entropic, said, "Inverto's Unicable II products powered by Entropic's latest dCSS offering, enable operators to simplify the complexity and power requirements associated with sending multiple video streams from multiple satellites into and around the home—over a single-cable feed."
For further information regarding Entropic, please visit http://www.entropic.com/solutions/satellite/outdoor-unit/en5500
Additional details regarding Inverto may be found at http://www.inverto.tv/