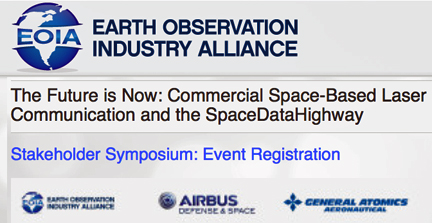 [SatNews] The Earth Observation Industry Alliance (EOIA) and Airbus Defense and Space and General Atomics cordially invite you to attend the Commercial Space-Based Laser Communication and the SpaceDataHighway Stakeholder Symposium to be held on November 4th and 5th at the Los Angeles Airport Hilton.
The event will focus on soon-to-be available innovative laser technology that will revolutionize how geospatial data and information is managed on both spaceborne and airborne platforms.
In the near future, airborne and spaceborne Laser Communications Terminals (LCTs) will provide remote sensing missions (ISR, weather, disaster response), defense, robotic, manned and unmanned space and airborne communities faster data transmission as well as larger data volume and tasking capabilities. Laser relays will reduce system response time (latency, reactivity) and disruption to a level where near-real-time geospatial data delivery capabilities will become a reality on a global scale.
The Stakeholder Symposium will provide an overview of the current status of the SpaceDataHighway and other technologies along with deployment schedules. The conference is an effort to forge collaboration between the diverse segments of the space, aerospace and geospatial intelligence industries and discuss related opportunities for Business-to-Business and Business-to-Government collaboration and partnerships. The symposium is intended to provide a forum to explore ways industry can work together to harness this disruptive capability for the benefit of the community.
Agenda topics include:
The Current State of Laser Communication Technology
Government Efforts in Laser Communication
Laser Communication and War Fighter Requirements
Airborne User Platforms
Spaceborn User Platforms
The SpaceDataHighway System
LCT OPSEC and INFOSEC Issues
DISN Considerations
Government Policy Panel
To learn more and to register, please visit http://www.eoia.org/laser-comms-symposium/