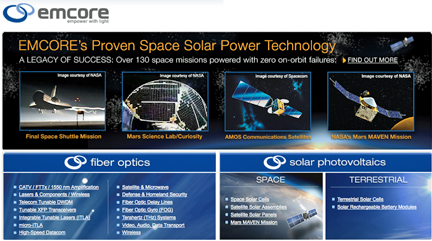 [SatNews] EMCORE Corporation (Nasdaq:EMKR) has entered into a new, long-term supply agreement with Lockheed Martin Space Systems to design and manufacture high-efficiency, multi-junction Coverglass Interconnected Cells (CICs) for Lockheed Martin's satellite program requirements.
The CICs will be produced at EMCORE's state-of-the-art manufacturing facility located in Albuquerque, New Mexico, USA. EMCORE has been a supplier of CICs for many previous space missions featuring satellites and spacecraft developed by Lockheed Martin. The CICs to be delivered under this new long-term supply agreement are based on EMCORE's latest generation ZTJ triple-junction solar cells. These advanced triple-junction solar cells are the result of years of research and development in high-efficiency, multi-junction solar cell technology for Lockheed Martin and several other major aerospace companies.
EMCORE is one of the world's leading manufacturers of highly-efficient radiation-hard solar cells, Coverglass Interconnected Cells, and solar panels for space power applications. With a Beginning-Of-Life (BOL) conversion efficiency nearing 30 percent and the option for a patented, onboard monolithic bypass diode, EMCORE's industry-leading multi-junction solar cells provide the highest levels of performance to interplanetary spacecraft and earth orbiting satellites.
"This agreement with Lockheed Martin is one of the most significant contract awards in EMCORE's recent history and results from many years of productive collaboration between our two companies," commented Dr. Brad Clevenger, Executive Vice President and General Manager of EMCORE's Photovoltaics Division.
Since 2001, EMCORE solar cells or panels have supplied primary power to over 130 successful space missions with zero on-orbit failures. The Company's proven manufacturing capability, technology leadership and unsurpassed reliability make EMCORE the supplier of choice for demanding space programs.
For further information, please visit the EMCORE infosite at http://www.emcore.com/space-photovoltaics/satellite-solar-assemblies/