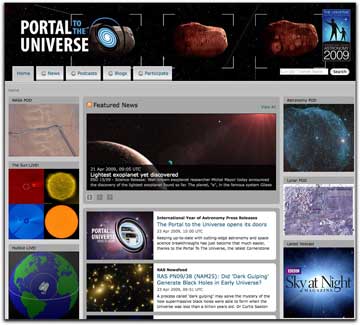 Keeping up-to-date with cutting-edge astronomy and space science breakthroughs has just become easier — Portal to the Universe, the latest Cornerstone project of the International Year of Astronomy 2009 (IYA2009), presents a high-tech website that is a one-stop-shop for astronomy news.
Released during the
European Week of Astronomy and Space Science
(JENAM 2009), the
Portal to the Universe
website has been eagerly anticipated and provides a global portal for online astronomy content, serving as an index and aggregator. The site itself features news, blogs, video podcasts, audio podcasts, images, videos, and more. Web 2.0 collaborative tools, such as the ranking of different services according to popularity, help the user to sift constructively through the wealth of information available and will promote interactions within the astronomy multimedia community. A range of "widgets" (small applications) have also been developed to tap into all sorts of existing "live data", such as near-live pictures of the Sun, live positions of spacecraft or live observations from telescopes. The vision for the Portal is to enable real-time access to content by aggregating (pulling) from providers of dynamic content like blogs, images, news, etc., and distributing (pushing) to users, as well as indexing and archiving, collecting and maintaining a central repository of useful information. RSS feeds and standardized metadata make it possible to tie all the suppliers of astronomy information together with a single, semi-automatically updating portal. The result is a technologically advanced site that brings together strands of astronomy content from across the worldwide web.