[SatNews] The media asset management and compliance provider, Suitcase TV, will demonstrate its capabilities in end-to-end solutions, including third party products, at IBC2014 in Amsterdam.
Suitcase TV will be demonstrating a wide range of its products; in addition to MediaStor, Suitcase TV's MAM (Media Asset Management), the company will be exhibiting its Aqua series of software modules, including TrakStak, MetaGenus, and ShotLogger.

iphrame Vision, a product of particular interest for organisations involved in live broadcasting, is a simple and easy-to-use, software-based video mixer that enables the user to make simple edits and apply effects to an incoming stream prior to output to an outgoing stream with no managed delay. In addition, Suitcase TV will demonstrate the ease with which its products integrate with third party products, such as Vidcheck. There will be an iphrame Vision workstation with Dektec card at IBC, and visitors will be able to see demonstrations in a variety of configurations based on the markets for the products. These will include a single input with a delayed version, a 2 camera demo and a live event vision mix with 4 inputs.

"Visitors to our stand at IBC are in for a treat this year," said Suitcase TV MD David Atkins. "Rather than simply show them what our products do in isolation, we're going to be demonstrating how a series of modules work together to create a complete solution. More than that, we'll be giving the low-down on how Suitcase TV products integrate with the products of other developers."
MediaStor
MediaStor is right at the heart of Suitcase TV's product offering, organizing media on multiple servers, irrespective of physical or geographical location, within a virtual file system that makes it easy to manage. As well as cataloging content, MediaStor records and manages the media metadata. Both technical and rich metadata is organised and stored using a hierarchical metadata model that is configurable and flexible so that it can fit any organisation. Even the metadata set is scalable allowing the MAM to evolve and grow as use of the system increases.

Aqua
Aqua is a range of client applications for a wide variety of uses such as ingest, metadata tagging, legal and/or technical compliance, adding or synchronizing audio tracks, and edit decision list (EDL) publishing. At IBC 2014, Suitcase TV will highlight several Aqua modules including TrakStak, MetaGenus, ShotLogger, and Splice.

TrakStak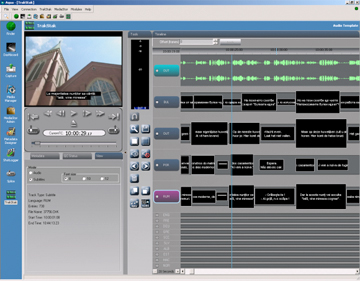 TrakStak facilitates the addition and adjustment of audio tracks for broadcast. It is not uncommon for additional audio tracks to arrive after content has been ingested, meaning each time a new language track arrives from the dubbing house, another time-consuming ingest must be performed. With TrakStak, the new audio track is appended to the asset at up to 80 times real-time, without the need to re-ingest the video.

MetaGenus
MetaGenus gives users the facility to edit metadata associated with a program or series without having a view of the media. This is useful for organisations to fill in information about an asset before it has been ingested, or where users don't need to see media to make changes.

ShotLogger
As the name suggests, ShotLogger is a tool that offers the ability to mark points of interest in video, capture information about those events and then store it all for future use on a database. It is perfect for marking up goals and penalties in football, crashes and overtaking in F1 racing, speeches at political party conferences, special events in news-gathering, flashing lights, as well as nudity, violence, and profanities for film and TV compliance.

Splice
Powerful but easy to use, Splice is ideal for creating EDLs or for performing simple edits of video content. Because it is a desktop application, performing pre-edits using Splice reduces the cost of craft editing.

At its stand at IBC 2014, Suitcase TV will recreate an existing workflow and will show how Aqua can simplify and automate a given process. The workflow will highlight integration with Vidcheck as well as the ease of importing and exporting to and from Avid. Language and promo workflows will be showcased along with a variety of metadata templates based on how other customers use ShotLogger and MetaGenus. Suitcase TV's stand at IBC (Stands 2.C10 and 2.C15) will include several workstations for in-depth demonstrations. In addition, their expert team will be on hand to deal with all inquiries.

For further information, please visit the Suitcase TV infosite located at http://www.suitcasetv.com/.