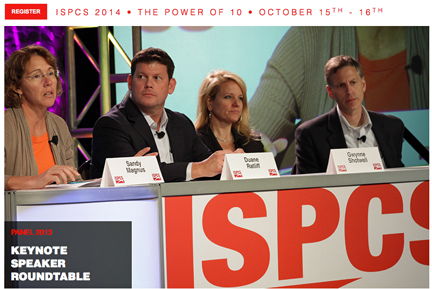 [SatNews] ISPCS 2014 is going to be featuring a number of stellar speakers from across the space industry at the upcoming event.

To occur in six weeks, hundreds of leaders will convene for the 10th year at ISPCS 2014—registration is a single click away at http://www.ispcs.com/login/.

Bill Gerstenmaier, Associate Administrator, Human Exploration and Operations, NASA
Jeff Greason, Chief Executive Officer and Chairman of the Board of Directors, XCOR Aerospace
Will Hampton, Director, Advanced Space Access, Boeing Company
Martin Heinrich, United States Senator, State of New Mexico
Douglas L. Loverro, Deputy Assistant Secretary of Defense for Space Policy, DoD
Kathy Lueders, Manager, NASA's Commercial Crew Program
Barry Matsumori, Senior Vice President, Sales & Business Development, SpaceX
Clay Mowry, President, Arianespace USA
George Nield, Associate Administrator, Office of Commercial Space Transportation, FAA
Duane Ratliff, Chief Operating Officer, NASA Liaison, CASIS
Mark Sirangelo, Corporate Vice President, Sierra Nevada Corporation's Space Systems
George Sowers, Vice President of Strategic Architecture, United Launch Alliance
Jess Sponable, Program Manager XS-1, Tactical Technology Office, DARPA
George Whitesides, Chief Executive Officer, Virgin Galactic
Doug Young, Vice President, Missile Defense and Advanced Missions, Northrop Grumman Aerospace Systems
Something new this year will be the spotlight talks—these are condensed, 10 minute talks that allow leaders in our industry to discuss progress on their programs. View the agenda at http://www.ispcs.com/agenda.php

Join in on October 15-16 in Las Cruces, New Mexico. Secure your spot by September 12 and take advantage of an Early Bird registration savings of $200.