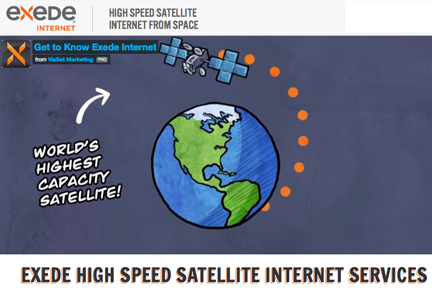 [SatNews] Starting this week, ViaSat Inc. VSAT, will offer Exede® high-speed satellite Internet plans that provide households across Florida with virtually unlimited data usage for communications, web browsing, and streaming media.
Virtually unlimited satellite internet service—providing at least 150GBs of monthly data without a strict data allowance—is another notable first for ViaSat. The company's Exede Internet consumer service, powered by their ViaSat-1 satellite, was the first high-speed satellite service to reach a significant portion of the U.S., including rural and remote areas that had historically limited internet options. With the recent growth in household data usage, especially for streaming services, ViaSat is again leading the industry in addressing customers' needs for higher data volumes with its Freedom plan.
"The Freedom plan shows our dedication to continually improving the customer experience and responding to their desire for more data," said Lisa Scalpone, vice president, Broadband. "With Exede Internet, we've shown that we can deliver high speeds at reasonable cost to virtually anyone in the U.S. Now we're excited to demonstrate that satellite internet can deliver data volumes that are competitive with wireline services."
Florida communities are among a number of limited markets in the U.S. selected for the Freedom plan. New plans in other areas of the country offer double or triple current data allowances for new subscribers. "Within the coverage we have on ViaSat-1, our objective is to put our available bandwidth to work for the benefit of our customers," said Scalpone.
Pricing for a six-month promotion of the Freedom plan is $69.99/month—or $59.99/month when bundled Exede Voice home telephone service. The promotion is available to new subscribers through Nov. 15. Enhanced data plans will be offered to current Exede subscribers this fall in certain geographic areas.
Mike Jude, program manager for Consumer Communication Services at Frost & Sullivan, said, "Through our research, we've found that ViaSat is dedicated to providing improved, state-of-the-art satellite services that don't have the typical limitations of satellite technology. The data cap has been one of those limitations, so this is a very interesting development to see them take another step ahead in responding to consumers' growing need for higher volumes of data."
ViaSat also offers Exede In The Air high-speed in-flight internet for airline passengers on JetBlue and United; Exede Business for added speed and data tailored to business subscribers; and Exede Enterprise communications for live events, field operations and disaster response. In a June 2014 report from the FCC, Exede Internet led 14 other internet services in delivering advertised speed, with peak period upload and download speeds of approximately 140 percent of what is promoted. This is the second consecutive year that Exede Internet's performance was at the top of the charts in the agency's annual independent study, "Measuring Broadband America."
ViaSat has also announced plans for another groundbreaking satellite, ViaSat-2, now in development. Its launch, planned for 2016, is expected to facilitate a significant expansion of Exede services, capacity, speed, and coverage areas.
For more information, please visit http://exede.com/.