The ALUDRA (Allianced Unmanned Developmental Research Aircraft) UAV, deployed by the Malaysian Joint Forces in Ops Pasir at Pandanan and Sipadan Resorts, will be launched early next year.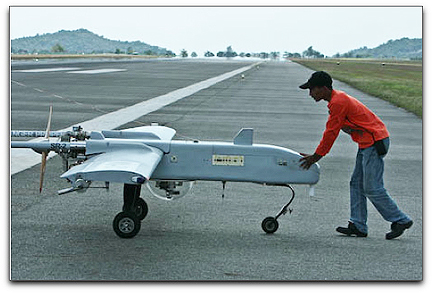 Defence Minister
Datuk Ahmad Zahid Hamidi
said the UAV was capable of sending data and photographs to the operation center for analysis in order for quick follow-up action to be taken. "Although I am happy with the UAV, I hope that it can be improved, particularly the area of coverage and length of flying time during operations. We have to make some improvements so that the UAV is suited to the local climate, wind circulation, and topography," he said after visiting
Kem Sri Wangsa
and witnessing a test drive of the ALUDRA UAV.
Zaid
said Malaysia needed six UAV for surveillance and intelligence work to assist the army, air force and navy in protecting the country's 1,700 kilometre coastline. He added Malaysia also had a prototype UAV which did not need a runway to take-off, thus saving the cost of building infrastructure. The
ALUDRA
UAV was manufactured by
Unmanned Systems Technology Sdn Bhd
(UST).