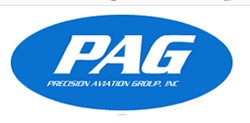 Precision Aviation Group, Inc. (PAG) has signed a dealership agreement with Honeywell Aerospace which allows PAG to sell, exchange and provide MRO services on Honeywell avionics products including Aspire (SATCOM) and SkyConnect.

Honeywell received their first helicopter platform Supplemental Type Certificate (STC) for the company's 200 SATCOM system in 2015 and, over the past 24 months, has completed certification on a range of helicopters across all segments of the market that include the Leonardo AW139, the Airbus AS350, the Bell 429, the Sikorsky UH-60/S-70 family, and a fleet of Mil Mi-8s in Europe.
David Mast, the President and CEO of PAG, noted that the two companies have had a long-standing and successful service agreement in North America. With this latest announcement, operators PAG supports will be able to benefit from "just-in-time" local support for a wider range of products and services including Honeywell avionics products.

To learn more, visit PAG at Heli-Expo (PHP Booth# C2851) .