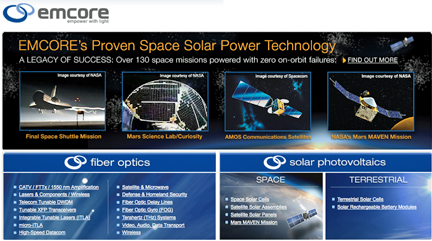 [SatNews] EMCORE Corporation (Nasdaq:EMKR) has entered into a new long-term supply agreement with Space Systems/Loral, LLC (SSL) to manufacture and deliver high-efficiency, multi-junction solar cells for SSL's satellite programs.
This new contract follows several other earlier long-term supply agreements between SSL and EMCORE. The solar cells will be designed and produced at EMCORE's state-of-the-art manufacturing facility located in Albuquerque, New Mexico, USA. EMCORE has been supplying SSL with solar cells for its satellite programs for 15 years. In early 2013, EMCORE reached a milestone of delivering its one millionth, high-efficiency, multi-junction solar cell to SSL, which will ultimately represent more than a megawatt of power delivered into space. EMCORE's long-term business relationship with SSL has been an important component in the growth of the Company's Photovoltaics division since 1998.
"After so many years of working together, EMCORE is not just a trusted supplier, but also a part of the extended SSL team," said Vivian Mackintosh, Vice President, Supply Chain Management at SSL. "EMCORE makes an important contribution to help SSL meet the demand for the world's highest power spacecraft."
"We are proud to continue our long-standing relationship with SSL through renewal of our long term supply agreement and appreciate SSL's continued confidence in EMCORE," commented Dr. Brad Clevenger, Executive Vice President and General Manager of EMCORE's Photovoltaics Division. "SSL has been a cornerstone of our satellite solar power business and we look forward to contributing to their success for many years to come."
"We value our long history as a key supplier of solar cells for SSL's space programs and are especially proud that our solar cells have continued to meet SSL's requirements for performance and reliability for 15 years," said Navid Fatemi, Vice President of Business Development of EMCORE's Photovoltaics Division. "We now have a tremendous opportunity to build upon that successful legacy."
EMCORE is one of the world's leading manufacturers of highly-efficient radiation-hard solar cells for space power applications. With a Beginning-Of-Life (BOL) conversion efficiency nearing 30 percent, and the option for a patented, onboard monolithic bypass diode, EMCORE's industry-leading multi-junction solar cells provide the highest levels of performance to interplanetary spacecraft and earth orbiting satellites. Since 2001 EMCORE solar cells or panels have successfully supplied primary power to 130 space missions. The Company's proven manufacturing capability, technology leadership and unsurpassed reliability make EMCORE the supplier of choice for demanding space programs.
Please visit http://www.emcore.com/space-photovoltaics/space-solar-cells/ for additional information.