A recognized leader in the aviation industry and long-time Iridium partner, Gogo Business Aviation connectivity platforms and services are found on virtually every size and type of business aircraft flying globally. In fact, thousands of business aircraft are flying with communications systems from Gogo Business Aviation that use the Iridium® network. And now the two companies have partnered to announce that Gogo (NASDAQ: GOGO) is the newest value-added manufacturer (VAM) for Iridium Certus aviation terminals.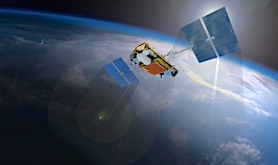 Iridium Communications Inc. (NASDAQ:IRDM) has selected Gogo as an Iridium Certus service provider, making it the first company to design and manufacture terminals, while also providing the new L-band broadband service for business aviation. Iridium Certus is the ideal solution for airline flightdeck communications, rotorcraft, and business jet flightdeck and cabin connectivity.

Gogo first began selling Iridium products and services in 2002 and introduced its Axxess system, which operates on the Iridium network, in 2005 followed by the more recent product, ST 4300. With Iridium Certus service delivered through the Iridium NEXT Low-Earth-Orbit (LEO) satellite constellation, Gogo will now continue while creating small-form-factor, low-latency and cost-effective antennas able to provide broadband service from any airspace, including the poles.
Scott Richter, vice president of business and product development for Gogo Business Aviation said that they've had a longstanding partnership with Iridium. Now, as a VAM and service provider for Iridium Certus, Gogo will be able to offer higher-speed data rates for business aircraft operating anywhere in the world. Iridium Certus is not only a great complement to their current platform of systems that utilize their air-to-ground network, but will offer more choices for their customers looking to add global satellite connectivity with greater capabilities.
Iridium Certus will bring broadband functionality, with enterprise-grade quality of service, to the aviation industry. The service will deliver faster speeds and offer smaller form factor antennas featuring a range of throughput and service options. These options will enable a variety of capabilities for cockpit safety and electronic flight bag services as well as cabin business applications. Enabled by Iridium NEXT, Iridium Certus is poised to deliver the fastest L-band broadband speeds on the market, with eventual speeds of approximately 1.4Mbps. Initial flight trials for Iridium Certus aviation applications will take place later this year, with commercial service introduction specifically for aviation users targeted for mid-2019.
Bryan Hartin, executive vice president, sales and marketing, Iridium added that they are thrilled to welcome Gogo to the Iridium Certus family as both a manufacturing partner and a service provider. Iridium Certus is going to change the way the aviation industry communicates by introducing faster speeds and smaller hardware, all at competitive price points. Iridium Certus can support the entire aircraft, from the flight deck to the cabin, creating a truly connected flying experience.
Gogo joins an exclusive roster of best-in-class Iridium Certus VAMs and service providers for aviation. Current Iridium Certus VAMs for aviation include Thales, Rockwell Collins, L3 Communications and Cobham, in addition to the recently announced aviation service providers, including Honeywell Aerospace, SKYTRAC, Avitek and Navicom Aviation.
Iridium NEXT is the Company's $3 billion, next-generation satellite network. To date, there have been six successful Iridium NEXT launches, deploying 55 new satellites. Two additional launches are planned for 2018, delivering 20 more satellites to orbit, completing the new constellation. In total, 81 Iridium NEXT satellites are being built with 66 in the operational constellation, nine serving as on-orbit spares and six as ground spares.