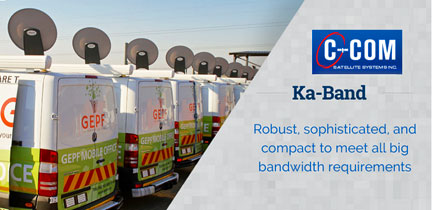 [Satnews] C-COM Satellite Systems Inc. (TSXV: CMI) has received type approval for its iNetVu® Ka-1202G antenna system from Avanti Communications (AVN:LSE)—Avanti is a London (United Kingdom) based leading provider of satellite data communications services in Europe, the Middle East and Africa.


The iNetVu® Ka-1202G mobile antenna, along with its new advanced 7710 auto-acquire controller, was able to deliver in excess of 10Mbps upload and up to maximum modem capacity 59Mbps download rates using an iDirect X7 Satellite Router with 3W transceiver during the tests. The test was performed by a leading European C-COM partner, Primetech UK.
Bilal Awada, CTO of C-COM Satellite Systems Inc., said, "The system was tested using 3-axis motorization allowing the user to operate within the same Ka beam or to roam to adjacent beams with auto-polarization switching function." The iNetVu® Ka-1202G system is C-COM's third vehicle-mounted antenna that has been approved to operate on Avanti's HYLAS 1 and HYLAS 2 Ka-band satellites."