[SatNews] Haivision will demonstrate the company's full range of Internet streaming and enterprise IP video distribution solutions at IBC2012.
These products aim at unleashing the power of live streaming. Making their debut at IBC2012 are the KulaByte™ 4.0 live H.264 encoder/transcoder for Linux®, the Furnace™ 7.0 IP video distribution system with InStream™ Mobile, and Viper™ 1.1, a compact integrated appliance for capturing, streaming, and distributing high-definition content. Also at IBC2012, Haivision will announce its support of MPEG-DASH, today's new standard for adaptive streaming over HTTP. In addition, thanks to new partnerships in the transmission of live global sporting events, Haivision has secured its place as the leader in IP video delivery to online audiences worldwide.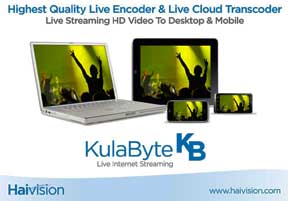 KulaByte™ 4.0—Haivision's live, software-based, Internet encoder/transcoder for adaptive bit rate (ABR) streaming, is now on Linux®—bringing a 30 percent performance improvement, a new user interface, and a 40 percent cost reduction when deployed in cloud computing environments such as Amazon's EC2™. KulaByte™ 4.0 uniquely matches exceptional HD quality with transport technologies designed to maximize streams delivered to the Internet. These technologies include constant bit rate (CBR), Dynamic Stream Shaping™ (DSS), and Micro-Chunking™, assuring optimal and dynamic usage of available uplink bandwidth.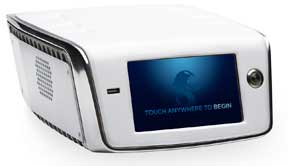 Viper KB™—Enables portable high quality source encoding at events, providing the power of KulaByte™ encoding within a compact appliance with touch panel operation.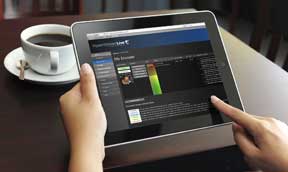 HyperStream™—Haivision's global streaming platform, automating the power of KulaByte™ cloud transcoding and CDN connectivity for content providers so that they can simply deliver media to global audiences.
MPEG-DASH—At IBC2012, Haivision is announcing its support for the MPEG-DASH standard, the industry's consolidated approach to adaptive bit rate streaming with HTTP. Haivision will support DASH across its product line, starting with the KulaByte™ encoder/transcoder.
InStream™ Mobile—A very low latency video player for mobile devices, extending Haivision's Furnace™ IP video system to deliver live, high-performance video to Apple® devices within the enterprise setting. Haivision's InStream™ Mobile app will be available from the Apple® iTunes® App Store(sm) in August 2012.
Makito™—The hugely popular H.264 1080p60 encoder appliance, with an incredible 55 millisecond performance and AES encryption—often used in conjunction with the Furnace™ system—now receives Internet streaming capability with RTMP support. This important upgrade is available to all installed Makitos at no charge.

Torpedo™—Haivision's DVB to IP gateway for delivering digital broadcasts directly to IP networks without re-encoding now features direct, free-of-charge integration with the Amino set-top box. Haivision's Torpedo/Amino integration is the lowest-cost integrated IPTV solution on the market.
Viper™ 1.1—A revolutionary dual HD channel recording and streaming appliance, ideal for advanced lecture capture, rich media streaming, and medical procedure review applications. With the new release, Haivision is introducing the Viper VF, a companion to the Furnace system tailored to installations where several rooms require the ability to record independently before publishing the assets to a central video-on-demand system. The Viper MAX, a stand-alone appliance, has also been enhanced, combining the power of Haivision's acclaimed H.264 encoding technology with the integrated Furnace operating environment.
All IBC2012 attendees and the press are invited to attend this panel session composed of industry-leading technology providers, including iStreamPlanet and Haivision, who partnered to develop the "Go-Live Package," a live turnkey streaming solution designed to deliver 12 live streams from the 2012 London Olympics to mobile devices and computers. Learn more about how these technology providers partnered with Interxion, Europe's largest data center provider as well as regional Olympic Rights Holder Broadcasters (RHB) to expand their digital footprint with live streaming of the Olympics, cost effectively and securely, to deliver the Games to specific regions while optimizing for a seamless device playback experience. The panelists include...
• iStreamPlanet – Mio Babic, President and CEO
• Haivision – Peter Maag, Chief Marketing Officer
• Interxion – Jonathan Wood, Director of Digital Media and Business Development
• RHB – TBD
• Moderator- Eric Schumacher-Rasmussen, Streaming Media