[SatNews OCTOBER 31, 2012] Astrium Services' DSNG System "XRACER" has been announced a winner of...
...the "Best of IBC 2012" award. The IBC convention in Amsterdam is the premier annual event for professionals engaged in the creation, management and delivery of entertainment and news content worldwide. Among the thousands of products exhibited by 1,400 exhibitors, the "Best of IBC" prize is awarded to a selection of the most interesting innovations, especially those that make broadcasters lives easier, cheaper and more efficient.
The award winning XRACER DSNG system is an ND SatCom product, based on the VW Amarok vehicle and allows dual transmissions through live video uplinks on the move, paired with a SKYRAY Compact antenna for static set ups. The solution is small, stylish and cost-efficient and allows video data and location coordinates to be transmitted while driving, even during speeds of up to 120 km/h.
After reaching the destination of interest, the SKYRAY compact antenna system is immediately available, using automatic pointing, for high quality transmissions of the broadcasting content. At the push of one button all system parameters are up and running, saving valuable time when news happens. A tablet-pc app allows the crew to operate the XRACER remotely.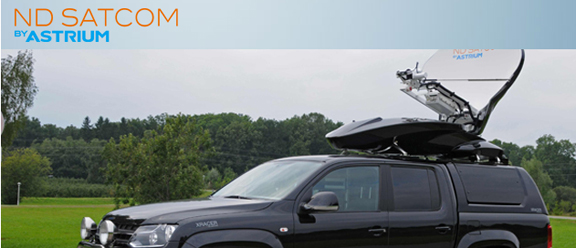 Through its ND SatCom product range, Astrium Services is one of the leading global suppliers of satellite-based broadband VSAT, broadcast, government and defence communication network and ground station solutions. ND SatCom innovative technologies are deployed in government and defence, broadcast & media, enterprise and telecom environments worldwide. The ND SatCom technologies have more than 30 years of experience in the satellite networks and systems businesses, and provide a reliable source of comprehensive and secure turnkey and tailored system engineered solutions.