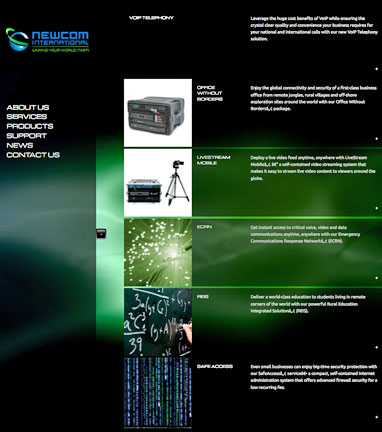 [SatNews] In a rapidly changing technological world, speed and costs are everything in the world of connectivity.
NewCom International and XipLink have teamed up to increase the bottom line QoE (Quality of Experience) for clients by adding value to their broadband experience at no additional cost, while preparing their network architecture for further efficiency enhancements with optional equipment.
Jaime Munera, Director of Product Development & IT of NewCom International, said, "The beauty of this technology is we have the infrastructure in place to enhance the service given to all our clients on the iDirect platform in USA, Latin America and Africa, thus increasing their bandwidth efficiency. When our customers choose NewCom's iDirect-based service for your satellite communications needs, they automatically benefit from our built-in WAN optimization solution that optimizes outbound traffic across all of our multiple networks."
Munera explains that customers can also benefit even more with optional low cost equipment at their remote end for a 2-sided boost in performance and the result is an increased QoE on as much as 30 percent.
Jack Waters CEO of XipLink said, "There was no hesitation on the part of NewCom when it became apparent that this technology was available to improve customer quality of experience (QoE). The NewCom technical team was extremely diligent and helpful adjusting and improving the technology to insure their customers received the best possible service benefit from XipLink's products."