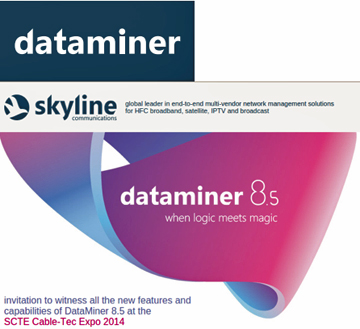 [SatNews] Skyline Communications' DataMiner 8.5 is, once again, delivering a wealth of features and enhancements across all existing software modules, making this management platform even more intuitive and more powerful than previous versions.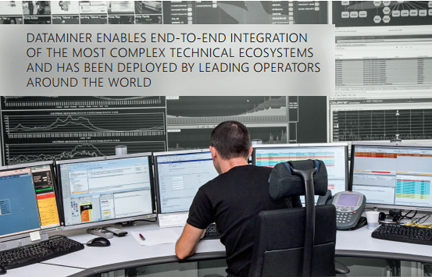 The versatile platform has been proven in superior management for studios, playout facilities, satellite and terrestrial contribution platforms, VSAT and IP trunking systems, IP networks, VOD platforms, ad-insertion systems, digital video head ends, outdoor networks, backbones, terrestrial transmitter networks, SNG fleets, and much more. The DataMiner 8.5 highlights are...

DataMiner Cube—The cutting-edge user interface for the application's end-to-end multi-vendor network management platform.

DataMiner Fault Management—As one of the most powerful fault management solutions in the industry, DataMiner 8.5 again brings a suite of new fault management related innovations, enabling operators to pinpoint and resolve operational issues faster than ever before.

DataMiner Visual Overview—Enables operators to graphically represent their entire operational ecosystem, end-to-end across any vendor and technology boundaries, in an unprecedented fully immersive and interactive graphical way.

DataMiner Router Control Panel—This an intuitive signal routing solution, which allows operators to easily manage signal flows, transparently across any routing product from any vendor.
DataMiner Business Layer—Enables operators to track the SLA performance of their services in real time, end-to-end across the most complex ecosystems. This enables a highly proactive approach to network management, with the factual business interests in mind.

DataMiner CPE Manager—enables operators to mine massive amounts of operational data across their entire population of customer premises equipment, including modems, STBs, gateways, OTT clients, soft agents, and so on.

DataMiner Resource Manager—While DataMiner is currently already in use for some of the largest contribution platforms in the industry, providing full end-to-end automation from booking to execution, the new DataMiner Resource Manager will make this kind of solution even more powerful.

DataMiner Aggregation—As part of the DataMiner Correlation Engine, this is designed to provide operators with an entirely new perspective on their ever growing and more complex operation.

DataMiner Spectrum Analysis—Provides operators with the unique opportunity to integrate any spectrum analyzer from any vendor, or even more specialized carrier management systems, and to benefit from real-time RF spectrum monitoring, alarm and performance management.

DataMiner Mobile Gateway—Offers operators a single professional mobile app for iPhone, iPad, Windows Phone or Android devices with full alarm management, performance management and real-time monitoring and control over any third-party device connected to DataMiner.

DataMiner Live Online Services—With the DataMiner Maintenance and Support Service, customers also benefit from an all-inclusive carefree support package, including live online upgrades.

DataMiner System Center—With the new DataMiner 8.5 release, administrators now have access to the all-new DataMiner System Center, which consolidates all administrative functions available in a DataMiner System.
For more information, please visit the Skyline Communications infosite at http://skyline.be/ or visit the team at booth 1720 at the SCTE Cable-Tec Expo 2014, September 22 to 25 in Denver, Colorado.