Fujitsu and Cisco have collaborated on the creation of a highly-efficient video contribution system for use over IP or satellite infrastructures.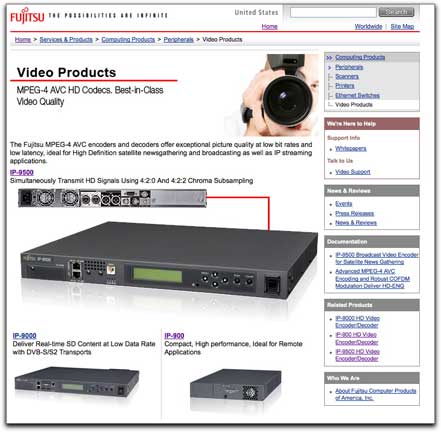 Designed to help service providers maintain high levels of video quality at lower bandwidths, the system delivers breakthrough low-latency performance for IP video transmission. Contribution networks provide flexible and efficient mechanisms of transporting video programming from the source (such as a sports stadium) to a broadcast studio or headend. By applying IP efficiencies to processes that traditionally have relied on legacy technologies,
Fujitsu
and
Cisco
are delivering the potential for significant cost and performance benefits for content producers and service providers. Fujitsu and Cisco are demonstrating this solution at Fujitsu's
Booth SU10921
at NAB. Forward-looking operators are using Cisco® technology to evolve their network into a medianet, a network optimized for video and rich media that is highly scalable in reach and capacity, streamlines operations and accelerates service velocity. The system supports the use of satellite delivery using DVB-S or DVB-S2 modulation for news gathering and outside broadcast applications. The new IP encoding platform includes the
Cisco D9094
MPEG-4 advanced video coding (AVC) encoder, which was developed by Fujitsu to support high-quality HD and standard-definition SD video with the lowest latency that can be transmitted at low speeds, while preserving excellent video quality. The Cisco D9094 encoder, and its standard-definition counterpart, the
Cisco D9093
encoder, both include an option for a built-in satellite modulator, ideally suited for
DSNG
(
Digital Satellite News Gathering
) applications. The IP system includes the flexible, powerful digital content processing technology of the Cisco Digital Content Manager (DCM) for IP forward error-correction and the capability to deliver massive horsepower capable of simultaneously processing hundreds of HD video streams. The end-to-end IP solution includes both Cisco
ROSA
® technology and
Dimetis Link Connector and Link Manager Options
for network and service management across the video contribution landscape.