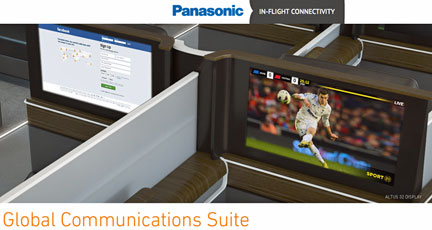 [SatNews] The airberlin group has equipped the first two aircraft in its fleet with the new airberlin connect' Wi-Fi service.
The two Airbus A320 now boast a Wi-Fi system from Panasonic Avionics Corporation, enabling passengers to connect to the Internet with their own smartphone, tablet or laptop during the flight. In addition, passengers on short and medium-haul flights will enjoy an entertainment offering with TV series, movies and music available for streaming to their own device with the new Wi-Fi service. Passengers will be able to select their own personal entertainment from more than 180 hours of media. On long-haul routes, passengers will continue to enjoy the RAVE in-seat entertainment system.

"With the new Wi-Fi service, our passengers can stay online during the flight and stay in touch with their families, friends and business partners. We will gradually expand the new service to almost the entire fleet. airberlin is the first German airline to offer inflight internet access on long-haul flights as well as on short- and medium-haul flights," said Wolfgang Prock-Schauer, Chief Executive Officer of airberlin.

Paul Margis, President and Chief Executive Officer for Panasonic Avionics Corporation, said "Wi-Fi is a vital part of the inflight experience because travelers expect to be perpetually connected and because airlines want to leverage connectivity to improve operational efficiencies. With our eXConnect service, airberlin has chosen the industry's most capable, platform-agnostic, and scalable broadband service available today."

The first two aircraft equipped with airberlin connect will service the new Stuttgart-Abu Dhabi and Vienna-Abu Dhabi routes. The first flight from Stuttgart to Abu Dhabi takes off on December 1st, 2014, bringing in-flight Internet to passengers on this route for the first time. On the new Vienna-Abu Dhabi connection from Austrian subsidiary NIKI, passengers will be able to use the new on-board Wi-Fi service as early as November 24th, 2014.

airberlin plans to complete equipping its fleet with this service within three years.
The airberlin infosite may be visited at http://www.airberlin.com/
Panasonic Avionics Corporation's infosite: http://www.panasonic.aero/