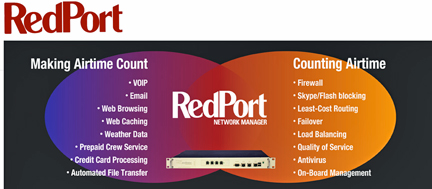 [SatNews] RedPort Global has updated their XGate satellite email and data service to provide data services with the Globalstar Sat-Fi and Iridium GO! satellite Wi-Fi terminals.
Customers will be able to access these services using the devices they already have, including smartphones, tablets and computers running Apple iOS, Google Android, Macintosh and Microsoft Windows. XGate provides compression and optimization of data services for satellite users in order to save on airtime and increase data speeds and usability. RedPort XGate subscribers can use the Wi-Fi-enabled smartphones, tablets and computers they already own to easily access accelerated email, the web, weather data and social media with these new BYOD (Bring Your Own Device) satellite terminals. XGate also works with other "Powered by RedPort" devices, including:
RedPort Optimizer, a satellite Wi-Fi hotspot that connects with any modern satellite phone via USB or Ethernet
RedPort Aurora Iridium Satellite Wi-Fi Terminal
SatStation Wi-Fi docks for Iridium and Inmarsat
XGate services include:
Email – Email service offers up to 20 times acceleration versus uncompressed speeds, saving up to 85% on satellite airtime
Web compression – Compression uses a web proxy service to provide users with 3-5 times average web acceleration, while also blocking ads, checking for malicious sites and compressing images.
Weather – Users easily get free GRIB files via email from many online services, showing weather and oceanographic data with their compatible GRIB file viewer.
Social media – Users can post text and photos to Facebook, LinkedIn and Twitter
Blogging – Users get free access to a Sailblogs premium basic account to help them share their adventures while travelling with their satphone
"XGate has been the leading independent satellite email service since its introduction in 2002." said Dr. Luis Soltero, CTO of RedPort Global. "This update keeps XGate on the cutting edge as it works with the industry's newest and most technically advanced satellite Wi-Fi terminals, letting more users in more places stay in touch."
XGate Compatible Operating Systems:
Windows 8, Vista and 7, both 32 and 64-bit versions
Apple Macintosh
Apple iOS devices (iPhone, iPad & iPod Touch)
Google Android smartphones and tablets
RedPort XGate is also offered by leading satellite service providers as a white-label solution under other brand names, including: OCENS Mail, Network Innovations Speedmail, Satphonestore.com Satphone.Me, MVS MVSMail, SatLink from BlueCosmo and SatWorx, , and XGate for Telecom Italia. XGate is also offered as a branded solution by Iridium and Globalstar for use with their own devices.
The RedPort Global offers more information at http://www.redportglobal.com/