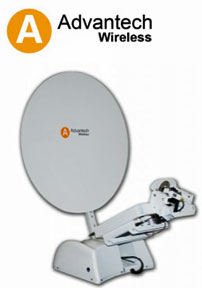 [SatNews] Advantech Wireless Inc. has released the new addition to its suite of...
...Drive-Away VSAT Antenna line that includes Pioneer™ and Enterprise™ type of antennae: the POLARIS K-Class ultra-compact, high performance, high quality, roof mount antenna system. The POLARIS130K and POLARIS155K antennas use the patent pending Next Generation Removable Roto-Lok® Cartridge Drive System, specifically designed for no maintenance, ease of repair, and zero backlash. These antennas encompass the industry well-known Roto-Lok® wire drive pedestal and iPoint™, auto-positioning controller and amplifier into the antenna enclosure, making the system a robust standalone sub-assembly ready to install onto almost any vehicle.
Advantech Wireless' latest technology that is GaN based, up to 250W Ku-band redundant, SSPA/SSPB system, can be easily installed directly on the boom, in a cost efficient manner. With Integrated Auto-Pointing iPOINT Controller or separate Indoor Controller options, the new POLARIS K-Class Antenna acquires the satellite in less than three minutes. The iPOINT Auto Acquisition Controller uses industry standard position transducers and a sophisticated pattern recognition algorithm to confirm and refine its heading information using visible satellites.
"The system is simple to install, set up and use" stated Cristi Damian, VP Business Development at Advantech Wireless "Combined with the New Generation of High Power GaN based SSPAs/SSPBs, the POLARIS K-Class Antennas offer the ultimate solution for Broadcast Applications".