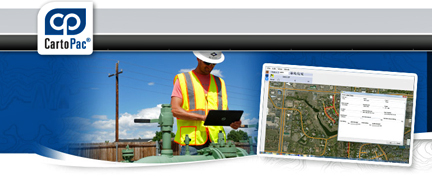 [SatNews] CartoPac International Inc. has announced a major new release of the CartoPac Mobile Platform to version 5.0, which extends the mobile platform with support for Windows 8 and introduces the CartoPac Workflow Manager, which provides a structured process to manage the use of geospatial data across the enterprise.

CartoPac will demonstrate the applications and technologies of Version 5.0 in the free CartoPac Mobility Webinar Series beginning on September 30th, 2014.

The CartoPac Platform is a configurable suite of field and office tools designed to maximize the productivity of crews as they digitally map, inventory and inspect critical assets using GPS-enabled mobile devices. Seamlessly integrating with the Esri ArcGIS Server, CartoPac is used extensively by oil & gas companies, pipeline operators, electric utilities, state/local governments and environmental engineering firms to populate the enterprise GIS and asset management systems with captured infrastructure information. The new CartoPac Workflow Manager (CWM) in CartoPac 5.0 provides organizations with a structured workflow to view, edit, validate and approve asset data as it moves from the field back into the enterprise. CWM ensures that individuals responsible for data are notified as it comes into the organization so they can incorporate the data into systems related to work order fulfillment, risk analysis, integrity modeling and other asset management processes. CartoPac developed CWM for the management of heavily regulated assets in the field, such as gas pipelines and electric distribution infrastructure. A module within the CartoPac Server, the CWM extension creates an audit trail of all the edits and modifications made to the data sets that represent the monitoring and maintenance of real world assets in the field.
Further expanding the capabilities of the CartoPac mobile components, Version 5.0 has been optimized for the Windows 8 operating system running on standard GPS-enabled laptop computers and tablet devices. This migration means that crews can use CartoPac to collect and manage asset data in the field on the same hardware devices they will use back in the office to run their daily business applications.
"CartoPac Workflow Manager fills the gap between data collection and enterprise asset management systems to enable organizations to maximize the value of their data," said CartoPac CIO Scott Crouch. "CWM enables organizations to show regulators they have a structured process for tracking and responding to the conditions of their critical assets and has proven to be key component for assisting companies with their regulatory compliance and integrity management programs. Laptop/Tablet-equipped maintenance personnel in the field will now be able to run CartoPac solutions on the hardware they already use for tracking repairs and closing work orders."


To demonstrate the advantages of enterprise asset management, CartoPac has launched the CartoPac Mobility Webinar Series, which will feature applications by electric and gas utilities and highlight new mobile technologies. The first webinar, "Applying New Mobile Technologies to Electric Utility Inspections," will be presented with EDM International Inc., a Colorado electric utility services company.

The free "Applying New Mobile Technologies to Electric Utility Inspections" webinar will be held on September 30, 2014, at 4:00 pm Eastern Time. To register, please visit https://www3.gotomeeting.com/register/508620694
The CartoPac infosite is located at http://www.cartopac.com/