[SatNews] Thomson Video Networks has announced that its award-winning ViBE™ VS7000 multi-screen encoding/transcoding platform has entered the next phase of interoperability testing with Broadcom Corporation, MStar Semiconductor, STMicroelectronics, and ViXS — all leading manufacturers of digital TV decoder system-on-a-chip (SoC) solutions targeted at the High Efficiency Video Coding (HEVC) standard.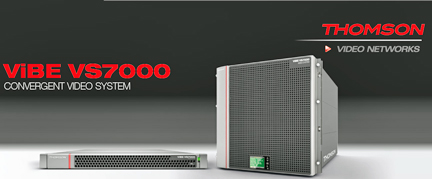 At IBC2014, Thomson Video Networks will showcase the ViBE VS7000's support of 10-bit HEVC with a demonstration of UHD content delivery at 60 fps based on Broadcom's BCM7445 Ultra HD video decoder technology on stand 14.A10. This demonstration will highlight the CATRENE UltraHD-4U project, in which the partners are working to develop a complete 4K HEVC chain that is paving the way for HEVC-based professional and consumer UHDTV services.
Earlier this year, the ViBE VS7000 demonstrated interoperability with the companies' HEVC-capable SoCs for delivery of ultra high-definition (UHD) television broadcasts based on the HEVC Main (8-bit) profile. In the current round of testing, Broadcom, MStar, ST, and ViXS will confirm the VS7000's encoding capabilities for the next-generation HEVC Main 10 profile, which supports UHD TV broadcasting in 10-bit color depth.
Broadcom, MStar, ST, and ViXS all manufacture 4K SoCs that provide native HEVC decoding in either set-top boxes (STBs) or next-generation TV sets. As a software-based encoding solution, the ViBE VS7000 is Thomson Video Networks' flagship HEVC-capable product and enables rapid integration of new profiles and features of the HEVC standard, which has been shown to reduce video bandwidth usage by up to 50 percent. One of the newest HEVC profiles, Main 10 for 10-bit color representation was recently adopted by the Digital Video Broadcasting (DVB) project for its UHD1 phase 1 implementation.
"The DVB's adoption of the HEVC Main 10 profile delivers a strong message regarding the industry's growing acceptance of this up-and-coming standard," said Claude Perron, chief technology officer, Thomson Video Networks. "Therefore, we have placed a high priority on working closely with industry-leading decoding technology providers such as Broadcom, MStar, ST, and ViXS to take HEVC technologies to the next level and provide the interoperability necessary to drive seamless UHD delivery — from the video headend to the viewer's STB or TV."
Further information about the ViBE VS7000 and other Thomson Video Networks products is available at http://www.thomson-networks.com/ and https://www.thomson-networks.com/en/products/video-compression/multiscreen-hevc-encoder