For 25 years, CAHORS DIGITAL, a leader in TV signal reception and distribution solutions, has been innovating to meet the demands of professionals—the company will be presenting their offerings at CABSAT in Dubai in the France Pavilion.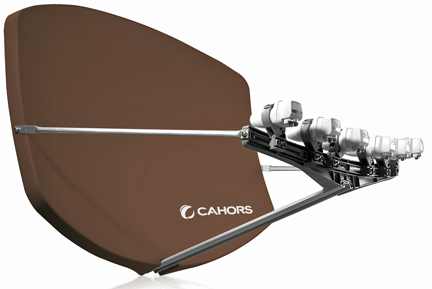 Owing to the dynamic Middle-Eastern market, the company has decided to implement a development strategy with key players in the region. The French company will present its BIG SAT antenna—the latest model in the SMC range. The BIG SAT's ease of assembly and its compact design make it simple to install and use. This multisatellite antenna is made from a composite, that being thermoplastic and fiber glass. The antenna is also light and durable and is fitted with a rapid access LNB system. Adjustments and positioning only require ten minutes to complete, thanks to the QUICKSAT mobile positioning application. CAHORS DIGITAL's long-term commitment is backed by a ten-year guarantee on all reflectors in the SMC antenna range.
Christophe SCHNELL, International Sales Manager – EMEA Communication – Equipment – Solutions, indicated that this multisatellite antenna has been specifically developed to receive signals from six satellites at the same time. Thanks to new generation rear mounts, each satellite has the same reception quality.