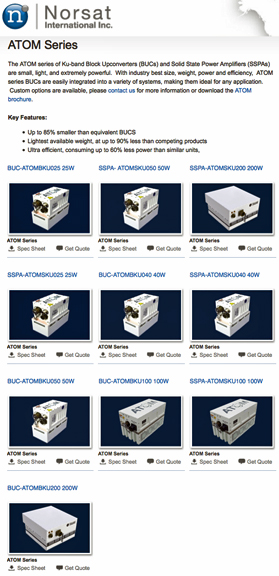 [SatNews] Norsat International Inc. ("Norsat" or the "Company") (TSX: NII and OTC BB: NSATF) has launched their ATOM series of Ku-band BUCs and SSPAs—the ATOM series of BUCs and SSPAs are the most compact, lightweight, and energy efficient transmitters available in the market.
The ATOM series BUCs and SSPAs are up to 82 percent smaller, 68 percent lighter, and 60 percent more energy efficient than alternatives, enabling a wide range of applications including portable VSAT, Satcom on the Move, Radar, TWTA replacement, and airborne terminals. Norsat has optimized the performance and quality of the ATOM products by working closely with key customers in North America and Europe, and has already shipped in excess of $2 Million of product to these customers. Norsat is now accepting orders from all customers requiring an ultra-small form factor BUC/SSPA.
"The ATOM series lead the industry in performance and flexibility which enable a new level of portability for various challenging applications in the Satcom market", states Norsat President & CEO, Dr. Amiee Chan. "Just like its namesake, ATOM series products pack significant power into an exceptionally small package. The ATOM series has been very well received by our initial customers and we are pleased to add the ATOM series to our portfolio of reliable and high performance microwave communication solutions".
The ATOM series offer:
Unparalleled power efficiency in a form factor up to 82% smaller than equivalent models
Off the shelf options including: wideband, fast switching, active (fan assembly) or passive (baseplate) cooling
Airborne and other environmental certifications
Custom RF output options available from 13.0 to 17.5 GHz for non-traditional frequencies including radar and common data link
The ATOM series are available for standard, extended, and custom frequency Ku-bands in 25W, 40W, 50W, and 100W configurations. For more information, please visit http://www.norsat.com/