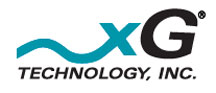 xG Technology, Inc. ("xG" or the "Company") (Nasdaq: XGTI, XGTIW), a provider of wireless video solutions to broadcast, law enforcement and defense markets, and private mobile broadband networks for critical communications, announced that the firm's IMT Vislink business has received a $360,000 order from a prominent U.S. television station for their NewStream comprehensive mobile broadcast transmission solution.
NewStream is a multi-mode mobile transmission system that makes gathering and transmitting live news and events a seamless experience. NewStream combines satellite, microwave and cellular newsgathering technologies into a single, 2-rack unit chassis, with an easy-to-use front panel that simplifies workflow. The unit allows for on-the-fly switching of transmission technology in the field, depending on the most efficient method of newsgathering available on scene.
NewStream was specifically designed to meet current and future requirements, providing broadcasters a clear upgrade path to multi-channel newsgathering. NewStream can easily integrate with a variety of other IMT Vislink uplink products for additional data and video applications. With its vendor-agnostic design, NewStream can easily provide multi-channel support to any existing newsgathering system.
John Payne IV, president of IMT USA, said that tThe NewStream system delivers a comprehensive, future-proof solution that has enjoyed a stellar reputation for meeting the evolving needs of the broadcasting industry. With streamlined design, industry-leading RF performance, a highly expandable technology platform and exceptional ease of use, NewStream takes the overall efficiency of newsgathering operations to a new level.