TV network providers add SCTE-35 metadata to mark the start and end of program segments and to signal actions, such as ad insertion.
However, no two content owners or program distributors use the same SCTE messages in the same way to trigger the same actions. This is known because Crystal provides the means to embed SCTE-104/35 at major broadcasters. This inconsistency of application of the standard causes problems — especially for OTT distributors wanting to use this metadata for content rights management and other advanced applications.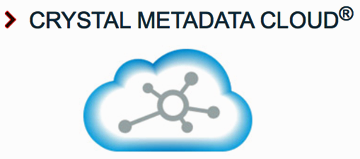 Even if SCTE-35 were normalized at the broadcaster, it rarely survives the complex distribution paths and multiple transcodes that occur for OTT distribution. This is because often during transcoding, the timing data inside the SCTE-35 messages is lost due to the conversion back to baseband. Despite best intentions and general conformance to the standard, the delivered metadata ends up being corrupted.
Why do these issues matter to you?
For live-to-VOD, it makes production slow and labor-intensive, sacrificing part of the C3 window while driving up costs.
It defeats efforts to automate ad insertion to take full advantage of the revenue opportunities beginning on D4.
Linear TV content and advertisements are prevented from being localized and personalized, key revenue drivers of multiplatform distribution.
During NAB New York last week, Crystal demo'd their solution: Crystal Metadata Cloud®. The company revealed how SCTE-35 can be accurately reapplied to any stream and generate multiple metadata profiles to match multiple distribution partners from one clean linear feed. There are also many other uses such as broadcast DR synchronization and lip sync error correction. The applications are almost limitless.
According to Crystal, this is groundbreaking technology and the firm believes this is the start of a revolution in the automation of OTT, the localization and personalization of linear and OTT advertising, the integration of TV with the second screen, and much more.