[SatNews] The latest Landsat images captured the Memphis, Tennessee, flooding — the first image was acquired mid-morning today and sent to SatNews courtesy of the USGS' The Earth Resources Observation and Science Center (EROS) in Sioux Falls, South Dakota.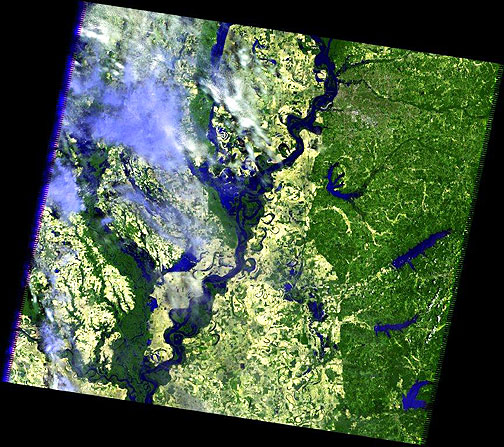 From
Landsat 5
,
NASA
also reveals their EO work on the Memphis flooding. The Mississippi River reached 47.87 feet (14.59 meters) in Memphis, Tennessee, on May 10, 2011, according to the
Advanced Hydrological Prediction Service
(
AHPS
) of the
U.S. National Weather Service
. It was the highest water level for Memphis since 1937, when the river reached 48.7 feet (14.8 meters).
The Thematic Mapper on Landsat 5 captured the top image on May 10, 2011, and the bottom image (showing non-flooded conditions) on April 21, 2010. Both images are natural color and show the area as it would look to the human eye. In May 2011, muddy water has pushed over the Mississippi's banks both east and west of the normal river channel. Flood waters span the distance between Memphis and West Memphis, and also fill a floodplain extending to an industrial park northwest of Treasure Island. On May 7, authorities closed Mud Island River Park indefinitely due to flooded service roads that prevented emergency responders from reaching the park,
The Daily News
reported.
Although flooding has not yet caused major damage in Memphis, the possibility of another rise on the Mississippi has not been ruled out, and flood waters are expected to recede slowly. The AHPS projected that the Mississippi River would remain at major flood stage until at least May 15. The Commercial Appeal reported that two weeks might pass before the river dropped enough to again absorb water from local tributaries, which were currently rising. The Mississippi River Basin is the third largest in the world, after the Amazon and Congo. Managing floods along the river has challenged engineers for more than a century. As of May 10, 2011, the AHPS reported major flooding along the Mississippi from Cairo, Illinois, to Baton Rouge, Louisiana. Springtime flooding also plagued other parts of the continental United States, including areas along the Red River and in New England.