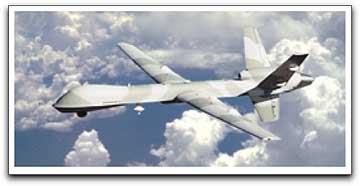 Bruce Rolfsen
of the
Air Force Times
reports that the U.S.A.F. is looking at a 3G of armed remote-control planes, even as it continues to build up its fleet of
MQ-1 Predators
and
MQ-9 Reapers
.
The service has started an analysis of alternatives for the next unmanned aerial vehicle, dubbed the
MQ-X
, with the goal of choosing a plane in 2012, Lt. Gen.
Mark Shackelford
told reporters last Friday. The Air Force wants enough
Predators
and
Reapers
to fly 50 around-the-clock patrols over Iraq and Afghanistan. There are now enough planes to fly 35 patrols, including one patrol by
RQ-4 Global Hawks
.
General Atomics Aeronautical Systems
builds Reapers and Predators. Due to the drive to deploy the planes, the Air Force and Defense Department did not open the project up for open bidding, but instead is depending on General Atomics' expertise.
Shackelford
, one of the service's top acquisition officials, told reporters developing and building the MQ-X likely will be open to all bidders. "We would like to have competition as we go into the MX-Q," he said. General Atomics has already unveiled a jet-powered UAV called the Avenger, able to fly at 460 mph — about twice as fast as the Reaper — and able to carry 3,000 pounds of weapons and sensors.