[Satnews] Cobham SATCOM has initiated delivery of the company's AVIATOR 700D satellite communication systems, which will be implemented within multiple C-130J Super Hercules fleets around the world.
Valued in excess of DKK 150 million, the satellite communication component of the new Block 8.1 upgrade for the aircraft was awarded to Cobham by Lockheed Martin, the manufacturer of the C-130J Super Hercules airlifter. Final integration of the AVIATOR 700D is underway at Lockheed Martin's facility in Marietta, Georgia, with the roll-out period to start by 2016.
Countries receiving the AVIATOR 700D system through the Block 8.1 upgrade for their C-130J Super Hercules fleets include: Australia, Canada, Denmark, Italy, Norway, United Kingdom and the United States (Air Force, Marine Corps and Coast Guard).
The satellite communication system will support the air traffic management and data link component of the Block 8.1 upgrade program. Cobham is delivering the Level D certified AVIATOR 700D SATCOM product, which is prepared for FANS1/A+ operation and supports a combination of current Classic Inmarsat cockpit safety provisions as well as SwiftBroadband IP data and voice capability components for variety of mission applications.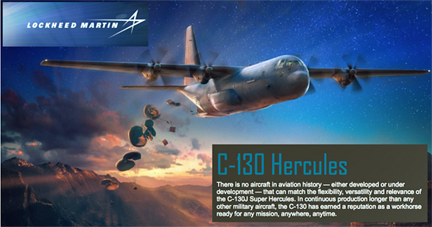 The C-130J Hercules is a heavy-lift tactical cargo and personnel transport aircraft powered by four Allison AE2100D3 turboprop engines and can accommodate a payload of up to 20t or more than 90 passengers. The block upgrade program ensures interoperability across the worldwide C-130J fleet.
The C-130J Super Hercules is crewed by two pilots and a load master, and features a glass cockpit, digital avionics and a new propulsion system with a six-bladed propeller. The C-130J is the current production variant of the C-130, which been in production for more than six decades. Today, the C-130J Super Hercules is by far the most common heavy lift transport aircraft in the world.
Executive Comments
"AVIATOR 700D offers the enhanced communications functionality required in this extensive upgrade program for the C-130J," said Andy Beers, director of Sales for the Americas. "The system functionality, reliability and certification fit the C-130J's future civilian airspace operational needs exceptionally well and Cobham is well positioned to be a reliable partner throughout the deployment of the upgrade program and the on-going use of AVIATOR 700D for the global C-130J fleet."