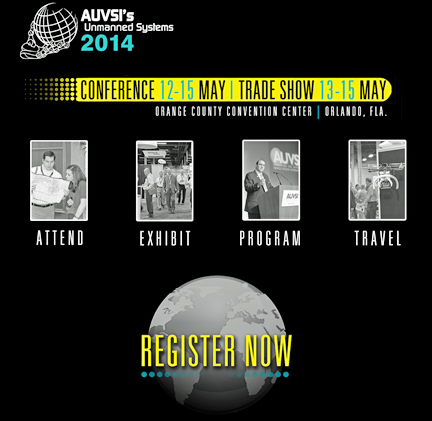 [SatNews] Register now for AUVSI's Unmanned Systems 2014, taking place May 12th through 15th at the Orange County Convention Center in Orlando, Florida.
Don't miss this unique opportunity to learn from and engage with the industry's most respected leaders and decision makers during our diverse line-up of educational program sessions. Attend the featured sessions below and get invaluable information on capability gaps, industry opportunities, technology challenges and more. There is no charge for uniformed personnel attend this show. Military, police, firefighters and first responders who come to in uniform will be granted complimentary access to the exhibit hall and morning general sessions. Registration in this category will be available onsite only starting Tuesday, May 13th.
FEATURED SESSIONS
DOD LEADERSHIP PANEL: UAS AND THE ROAD AHEAD
Moderator: Grant Begley, president and owner, Concepts-to-Capabilities
Consulting LLC
Panelists: Maj. Gen. Eugene Haase, director, Intelligence, Surveillance and Reconnaissance Capabilities, Headquarters U.S. Air Force; Rear Adm. Mat Winter, program executive officer, Unmanned Aviation and Strike Weapons, U.S. Navy; Col. Keith Hauk, director of material, U.S. Army G-8
DEFENSE GROUND ROBOTICS ROUND TABLE
Moderator: Dr. Michael Zeher, section supervisor, Robotic Systems, Johns Hopkins University, Applied Physics Laboratory
Panelists: Mike Del Signore, robotics branch head, Naval Surface Warfare Center, Indian Head EOD Technology Division; Lt. Col. Stuart Hatfield, branch chief, Soldier Systems and Unmanned Ground Systems FDD, Army G-8; Lt. Col. Aaron Roberson, product manager, Appliqué and Large Unmanned Ground Systems, Robotic Systems Joint Program Office; Chris O'Donnell, OUSD AT&L, Tactical Warfare Systems, staff specialist, Joint Ground Robotics Enterprise
EXPLORING ADVANCED CONCEPT OF OPERATIONS FOR UNMANNED MARITIME VEHICLES
Moderator: Dick Rumpf, Rumpf Associates
Panelists: Scott Littlefield, program manager, DARPA; Craig McLean, deputy assistant administrator for NOAA Research, National Oceanic and Atmospheric Administration; Capt. David Honabach, program manager, PMS 406, U.S. Navy; Rick Myrick, director of technology, Platforms and Sensors, Naval Meteorology and Oceanography Command
These sessions are only a sample of what can be found at this year's conference. AUVSI's Unmanned Systems 2014 features four days of programming, including a full technical program, in depth panel sessions and timely hot topic presentations packed with information that matters to you and your business.
For a full listing of sessions and to register, please visit http://www.auvsishow.org/.