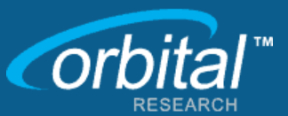 Earlier this month, Orbital Research Ltd. released a newly enhanced, 4.0 GHz wideband Ka-band low noise amplifier (LNA) that covers the complete Ka spectrum, from 17.2 to 21.2 GHz and, according to the company, offers the lowest noise figure in the industry at 1.2 dB.
Designed primarily for satellite teleports and gateways, TT&C applications and airborne terminals, this new Ka LNA raises the performance bar. It delivers exceptional data throughput, high quality signal amplification and an impressive low noise temperature of 105 K. The LNA also offers 52 dB of gain and the linearity needed to handle higher order modulation schemes, such as DVB-S2X.
Additionally, this feature-rich LNA offers an optional RS485 monitor and control (M&C) interface that delivers real-time status indicators like current and temperature, helping users ensure optimal performance at all times.
Orbital's CEO, Ian McEachern, said that through the company's continued innovation, the firm is able to offer the lowest noise figures in the industry as well as key, unique features with the advanced M&C interface. These features are big pluses for gateway and teleport stations as they offer higher availability and better visibility into the system operations
For more information, contact Ian McEachern at 1 (604) 763-3494 or imceachern@orbitalresearch.net, or visit the product page at https://orbitalresearch.net/product/wideband-ka-band-lna/.