[SatNews] The Russian Satellite Communications Company (RSCC), the Russian state satellite operator, and Earthly Orbit Communications Limited, a U.K.-based satellite solution provider, jointly announced...
...that they will grow their existing relationship, which currently includes leasing large volumes of capacity on Express AM44 (11 degrees West) and Express AM22 (53 degrees East), with a cooperation agreement for Express AM-8, to be launched in 2013. The agreement was reached during a series of meetings at the Cabsat 2012 exhibition in Dubai a signing at CommunicAsia 2012.
"We are pleased to further expand our current commercial relationship with Earthly Orbit to also include the prospective Express-AM8 satellite capacity," said RSCC Director General Yuri Prokhorov. "As one of our largest customers, we continue to appreciate the choice of RSCC by our U.K. partner Earthly Orbit and welcome their decision to develop their business on Express-AM8. Earthly Orbit successfully promotes and sells RSCC satellite capacity, and now manages multiple transponders on RSCC satellites offering coverage throughout the EMEA region."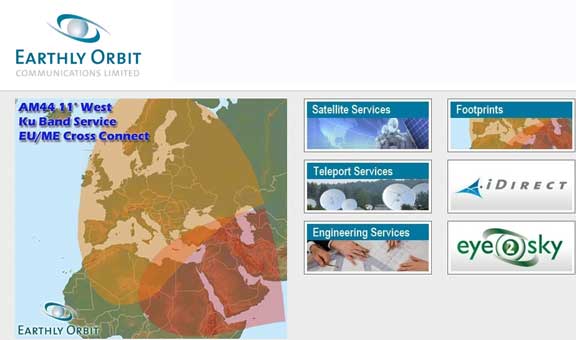 Earthly Orbit provides customers with a choice of teleports to operate using RSCC satellites and additionally with high quality link performance analysis and capacity optimisation, utilising the latest advances in satellite communication technologies, modulations and coding. This makes it possible for Earthly Orbit to provide best value and service across the globe, often reducing client costs. Earthly Orbit serves a diverse range of clients, including Teleports, Oil & Gas, Mining, Banking, Military, Maritime and Mobile users.
"RSCC is one of the leading satellite operators and their fleet continues to offer high standards of quality and service. We are very excited about the launch of AM8 as our new commitments to RSCC will not only strengthen our offering throughout EMEA but it will also allow for expansion into North and South America with possibilities of connecting both regions on one satellite." stated Neville Ford, Managing Director of Earthly Orbit Communications Limited.
"In 2009 we announced a significant step in our relationship with RSCC, with a signing ceremony for capacity on AM-44, held at ITU Telecom World. By 2011, we had increased our business with RSCC by 300% and held a second ceremony at the ITU event in Geneva that year. We look forward to continuing our excellent relationship with the launch of AM-8 and future satellites and we expect another period of continued growth throughout 2013 and beyond".
The Express-AM8 satellite is scheduled to be launched to 14 degrees West in the third quarter of 2013. The satellite will be equipped with six high-power Ku- and two C-band spot beams providing coverage of Europe, Africa, the Middle East, North and South America. Express-AM8 is designed for high-quality video, voice and data services in both local and transatlantic networks. Earthly Orbit will initially be committing to three C- and two Ku-band transponders.