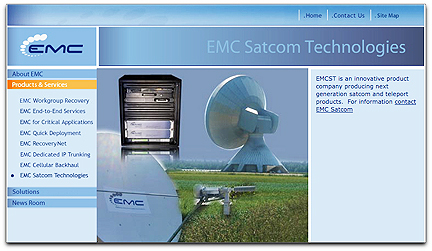 EMC Satcom Technologies GmbH established a new landmark in satellite link optimization by achieving a symmetrical 155/155Mbps circuit inside a single transponder and, in tur, liberating a full 72MHz transponder.
The existing
STM-1
in Asia-Pacific was using a 72MHz transponder of the outbound carrier 155Mbps and another 72MHz for the inbound carrier 155Mbps. By placing
EMC Satcom
's
NRS Bandwidth Booster
at each end of the link, a full 72MHz has been cancelled, allowing the existing symmetrical 155/155Mbps STM-1 to operate within one transponder only.
This optimization and releasing of satellite capacity equates to over $2million a year in savings for the customer. The NRS Bandwidth Booster is available for satellite MHz bandwidth cancellation at 12MHz, 25MHz, 36MHz and 72MHz and is completely modulation agnostic being able to work with all satellite modems. In addition to SCPC links, the NRS works with all brands of TDMA hubs allowing the MHz currently allocated to the inbound channels to be saved. As a hub only installation the NRS achieves these savings without any physical changes to the remotes making it ideal for networks large or small.