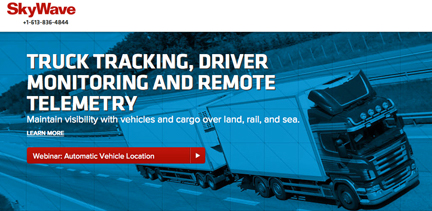 [SatNews] SkyWave Mobile Communications Inc. has reported that a new set of features and reports are now available with SkyWave's AVL Agent, J1939 Agent and Analytics Agent to enrich its existing fleet management offering.
These feature-rich and configurable software applications require no programming or development at the device level when integrating SkyWave devices into existing fleet management applications. They deliver instant capabilities to its portfolio of fleet management devices as well as a new set of features that further extend the reach of the solution to provide smarter, more usable data. Designed to reduce the intricacy of M2M applications to facilitate customer timelines, SkyWave helps customers get to market quicker.
AVL Agent reports a variety of events based on user configurable parameters to support location tracking, vehicle status and driver behavior monitoring. The latest version delivers a new set of features and reports that can be used towards the implementation of a motor vehicle safety program aimed at both improving driver safety and ensuring regulatory compliance. New driver safety features include reports on harsh braking, harsh acceleration and accident detection, while regulatory compliance features include Driver ID to monitor driving hours and ensure that drivers are not exceeding the legal, allowable driving time. J1939 Agent delivers instant connectivity to a vehicle's CANbus, retrieving J1939 parameters used for monitoring driver behavior and vehicle performance. Data retrieved from a vehicle's CANbus can help reduce wear and tear due to improper operation and maintenance schedule, as well as reduce fuel consumption as a result of poor driver operation and insufficient vehicle maintenance.
Analytics Agent processes data obtained from applications such as AVL Agent and J1939 Agent to enable the delivery of event-based alarms, notifications and periodic reports to a customer's enterprise application. It is useful for tracking KPIs (Key Performance Indicators) used for assessing operator behavior and vehicle performance, thus improving driver safety and the retention of better drivers.
SkyWave applications are now available as subscriptions to SkyWave's Solution Providers and can be downloaded from the SkyWave Customer Support Portal at http://support.skywave.com.
For more information about any of these new features, please visit http://www.skywave.com