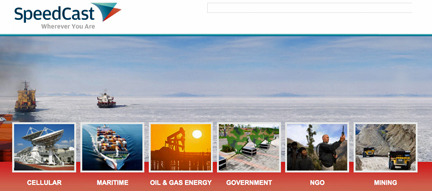 [SatNews] SpeedCast has acquired Oceanic Broadband, a leading integrator and solutions provider in the Oceania region.
The acquisition will strengthen SpeedCast's growing leadership position in Australasia servicing the natural resource sector, a market which Oceanic has been successfully developing for many years. Oceanic Broadband specializes in providing end-to-end wireless and satellite services, and has been a long-term SpeedCast partner. The successful relationship has seen the companies support a broad range of customers and applications, particularly in the Papua New Guinea market, which accounts for the majority of Oceanic's business.

With Oceanic's technical expertise and network infrastructure in Papua New Guinea, SpeedCast strengthens its ability to design, install, operate and support communications networks for its oil & gas, mining and NGO customers, as they expand into this growing market. In particular, the Port Moresby teleport will provide SpeedCast customers with the benefit of an additional point of presence and allow them to connect their remote sites to Port Moresby in one single satellite hop. The acquisition further reinforces SpeedCast's dedication to delivering the best-in-class communications services to its customers operating in the Australasian markets.

This acquisition follows SpeedCast's successful acquisitions of established satellite industry players in the Australasia region, Australian Satellite Communications, Pactel International and SatComms Australia, over the past 18 months, as well as Elektrikom Satellite Services in the maritime sector.

If you would like to find out more about SpeedCast's work in the Pacific region, please visit http://www.speedcast.com/.
The Oceanic Broadband infosite: http://www.oceanicbroadband.com.au/