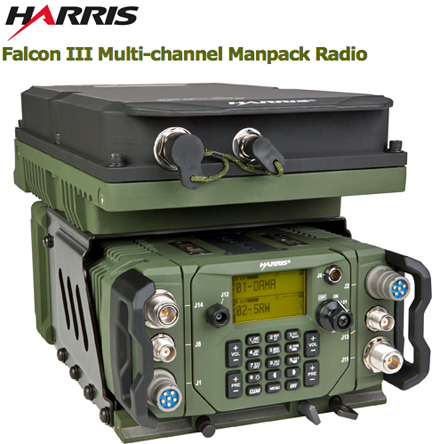 [SatNews] Harris Corporation (NYSE:HRS) has received an order from the U.S. Department of Defense (DoD) for its Falcon III® RF-340M multi-channel manpack—the smallest, lightest and most capable next-generation tactical radio available today.
The RF-340M integrates two radio channels into a single chassis, allowing users to operate simultaneously on multiple networks for enhanced command and control. The radio also includes an expansion slot capable of adding capabilities to address emerging and unique mission needs in areas such as higher-speed wideband networking, satellite communications and intelligence, surveillance and reconnaissance. Harris developed the multi-channel manpack to exceed the requirements of the DOD's Handheld, Manpack, Small Form Factor tactical radio program, with additional capabilities to address all branches of the DOD. Each of the two radio channels will host all required U.S. government wideband and narrowband waveforms, including the next-generation narrowband Mobile User Objective System waveform, without the need for add-on hardware modules. It also supports multi-channel cross-banding and requires only a single battery, minimizing size and weight for the dismounted soldier.
"This is our second order for the RF-340M, demonstrating the growing interest in Harris' next-generation, two-channel solution for mounted and dismounted tactical communications," said George Helm, president, Department of Defense business, Harris RF Communications. "The RF-340M's ability to send and receive voice and data over multiple networks simultaneously significantly enhances a warfighter's situational awareness and mission command capability. This is the DoD's radio of tomorrow, delivered today."
For further information, please visit http://rf.harris.com/capabilities/tactical-radios-networking/multi-channel-manpack.asp