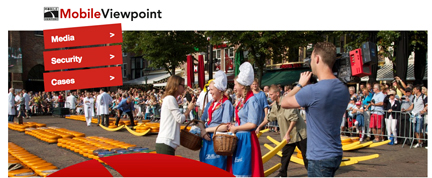 [SatNews] Mobile Viewpoint, a leading European company involved in video transmission over bonded IP networks, has received a 'Best in Class' award from the EBU (European Broadcasting Union).
Mobile Viewpoint received this award after extensive stress testing their failover technology between a KA-SAT connection and 3G/4G connections, setup by the EBU. KA-SAT enables easy Internet via satellite. With the launch of Exede services in the U.S., and Tooway and Newsspotter in Europe, a lot of new SNG service providers popped up. They soon found out dense clouds, heavy rain or snow can seriously hamper or even cut off available bandwidth. Only encoders with failover mechanisms to 3G and 4G connections can solve this. Several other Mobile Viewpoint users came to an indentical conclusion. After such occurred, the EBU set up a shoot-out between different bonding encoders, using an HD SDI uplink in the U.K. and HD SDI output in Geneva. While transmitting news and sports footage, only Mobile Viewpoint encoders showed no visible artifacts, even when unplugging the KA-SAT modem. This led the EBU to awarding Mobile Viewpoint with a 'Best in Class' award. Every Mobile Viewpoint encoder, with the latest firmware, is, by default, equipped with this technology.
Mobile Viewpoint is a global player, focusing on the development and implementation of solutions for both the security and broadcast industries. Based on their H.264 and now H.265 & VP-9 codec implementations, combined with patented technology, allowing for HD video to be transmitted over bonded IP connections, Mobile Viewpoint has developed the most versatile product portfolio. Products range from smartphone apps (iPhone & Android), backpack encoders and rack-mount solutions all working together on the unified WMT Videomanager and Content Exchange platforms. Customers include major broadcasters, such as BBC, Al-Arabiya, Sky Sports, NBC Sports, and over 120 other global customers.
For further information, please visit http://www.mobileviewpoint.com/