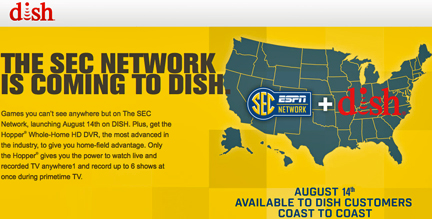 [SatNews] To ensure fans can find the action when SEC Network officially launches on August 14, DISH has announced it will air on channel 404 within the Hopper® Whole Home HD DVR's channel guide.
Current DISH customers who subscribe to the America's Top 120+ package and above will receive both SEC Network and Longhorn Network at no additional cost.
To celebrate the upcoming football season, new DISH customers who subscribe to the America's Top 120+ and above package by October 21, 2014, will also receive the Multi-Sport package through the end of the year. The Multi-Sport programming delivers more than 35 channels of college and professional sports, including the Big Ten Network (channel 405 on the Hopper), Pac-12 Networks (channel 406 on the Hopper), ESPN Goal Line, NFL Red Zone from NFL Network, and more than 20 regional sports networks. A full list of channels can be accessed here. In addition, when new DISH customers mention the offer code "FLAG," they can receive a flag of the SEC or Pac-12 team of their choice to further show their support this season.
For more information, please visit the Dish infosite http://www.dish.com/secnetwork.