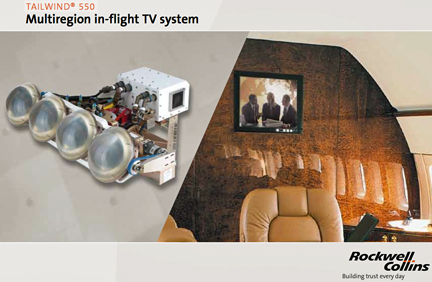 [SatNews] Rockwell Collins has developed new satellite reception technology that will expand the industry-leading coverage and reliability of its Tailwind® 550 Direct Broadcast Satellite (DBS) TV system for large business and VIP jets.
The new technology, which is part of Tailwind 550's fuselage-mounted antenna, will provide 25 percent greater programming coverage for all supported regions and improve overall reliability, especially when traveling between regions where satellite coverage may be weak, and flying in hot or humid areas. Starting in early 2015, new Tailwind 550 systems will be delivered with the updated antenna and a drop-in replacement antenna for fielded Tailwind 550 systems will be available.
Rockwell Collins Tailwind 550 provides large business and VIP aircraft passengers with the broadest offering of satellite programming in the business aviation market segment, and is the only company to offer high-definition (HD) digital video (MPEG-4).
"With Tailwind 550, passengers have real-time access to hundreds of standard and HD channels, without the need or expense to stream select content to the aircraft," said Greg Irmen, vice president and general manager, Flight Controls and Information Systems for Rockwell Collins.
There's additional information located at this direct infopage.