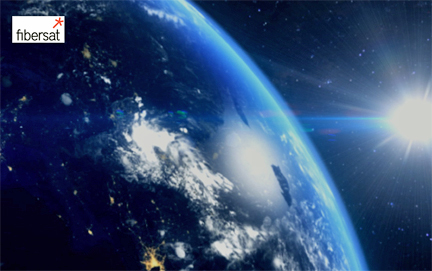 [SatNews] Fibersat S.A. announces the company has signed a framework agreement with Arabsat for the acquisition of a HTS hosted payload in Ka-band on the upcoming Arabsat satellites with extensive coverage over African Markets—Fibersat is expected to commence operation in 2018.
The acquisition of this hosted payload is a major step forward for the new satellite operator. Fibersat has already signed up significant pre-launch orders with key telecommunication operators providing network services in the Africa region. At launch, Fibersat will be able to provide affordable Internet access services to remote locations across the continent using low cost commercially available VSAT terminals.
Executive Comments
"Fibersat has now taken the first step in realizing the dream of ultra low cost broadband in Africa," said Christof Kern, CEO of Fibersat. "By combining the benefits of a power-optimized HTS design and leveraging a hybrid satellite architecture, Fibersat will be able to offer customers unprecedented price levels for satellite services which is key in price-sensitive markets like Africa. This is the only way to meet the exploding demand for Internet in Africa, the fastest growing market in the world."
"This cooperation with Fibersat will position Arabsat as a major service provider to the growing markets of sub Saharan Africa, with a portfolio of broadband and telecom services. By employing an innovative payload design in Ka band Arabsat will have blanket coverage over the MEA region" said Khalid Balkheyour, CEO of Arabsat.